Updated August 25 2016
HOLLY SPRINGS, N.C.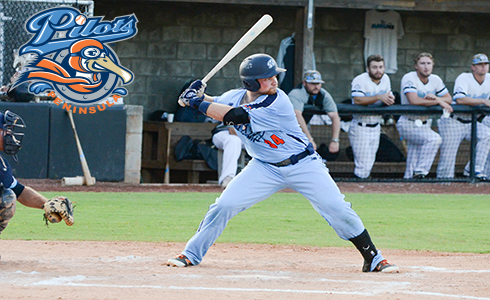 The Coastal Plain League announced today that Will Shepherd (picture courtesy Ralph Wood) of the Peninsula Pilots has been named the 2016 CPL Hitter of the Year. This was Shepherd's third season in the CPL, all with the Pilots.
Standing at 5-10, 195, Shepherd led the CPL in batting average at .407, good for second-best all-time in the league's illustrious 20-year history. The rising-senior at Liberty finished the year with 16 doubles, one triple, and five home runs and 47 RBIs for 101 total bases and a .607 slugging percentage. He also showed a sharp eye at the plate drawing 23 walks on the year to push his on-base percentage to .480 while also stealing 15 bases and scoring 39 runs for the Pilots across 45 games played.
Of his regular season statistics, Shepherd finished in the Top 5 in the league in seven different categories: batting average (1st), slugging percentage (2nd), on-base percentage (3rd), hits (2nd), RBIs (2nd), doubles (2nd) and total bases (tied 5th.)
Shepherd earned Player of the Week honors back in week four of action after batting .571 over six starts for the Pilots, totaling 12 hits with three doubles and 15 total bases fro a .714 slugging percentage on the week. His talents were also recognized mid-season when he was selected as a starting outfielder for the East Division CPL All-Star team.
He helped lead the Pilots to an all-time CPL record .303 team batting average and a 38-17 regular season record to enter the 2016 Petitt Cup Playoffs with the number one overall seed. The Pilots went on to win the East Division Championship before falling to the Savannah Bananas two games to one in the Championship Series.
The Coastal Plain League is the nation's premier summer collegiate baseball league. Celebrating its 20th season in 2016, the CPL features 16 teams playing in Georgia, North Carolina, South Carolina and Virginia. The CPL has had nearly 1,300 alumni drafted and 90 of those – including 2011 AL MVP and Cy Young winner Justin Verlander – make their Major League debut; while another notable alum – Russell Wilson – won Super Bowl XLVIII. For more information on the Coastal Plain League, please visit the league website at www.coastalplain.com, like us on Facebook at Coastal Plain Leagye and follow us via Twitter and Instagram @CPLBaseball.
Contact:
Shelby Hilliard
Phone:
919-852-1960-852-1960