Updated July 20 2016
WILSON, N.C.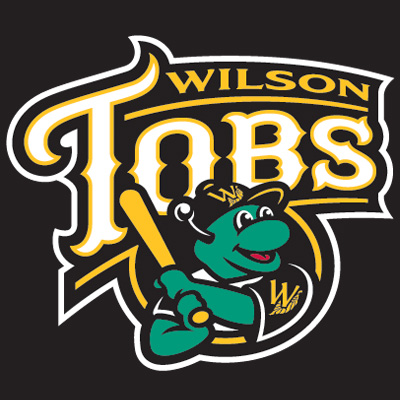 The Tobs took to the field on Tuesday night and defeated their northern neighbor, Peninsula, 8-4.
A crowd of over 900 filled Fleming Stadium on Chick-Fil-A Night and watched as the Tobs offense exploded from the outset.
Peninsula opened the game by taking a two-run lead off of a Kyle McPherson (James Madison) 2-RBI double.
However, Jimmy Latona (Mercyhurst) answered the bell by slugging a two-run home in the bottom of the first to pull the Tobs even. Wilson would take the lead on a Logan Baldwin (Georgia Southern) RBI to score Austin Fisher (Santa Clara).
Holding a 3-2 lead, Jeff Thompson worked five innings with five strikeouts, but ceded the tying run to Will Shepherd (Liberty) in his final inning of work.
In the bottom of the sixth, Spencer Brown (High Point) would show off his prowess by clearing the bases with a 3-RBI triple to give the Tobs a 6-3 lead. Brown would score on a Baldwin double.
In the same inning, Baldwin stole third to mark his 26th stolen base, setting a new Tobs single-season record.
Peninsula would add one off of reliever Joe Harrell (Texas A&M Corpus Christi), but Cameron Balego (Mercyhurst) would earn it back with a solo shot in the seventh.
The Tobs tied the season series at four apiece with an 8-4 victory.
Wilson is now 20-19 and in the playoff picture again while Peninsula falls to 26-13. Alex Yarem (Campbell) earned the win while Michael Parmentier (Norfolk State) swallowed the loss.
The Tobs play at Holly Springs tomorrow before returning home for Paint the Park Pink Night on Thursday.
The Wilson Tobs are proud to announce this upcoming year will be our 20th Anniversary Season within the Coastal Plain League. As an original member of the Coastal Plain League, the modern day Tobs have been lucky enough to celebrate each memorable season with the warm embrace of the Wilson community. We would like to dedicate each successful season to the Wilson Community, Coastal Plain League Organization, Host Families, Sponsors Partners, and the Dedicated Fans throughout the city of Wilson. Due to this tremendous support we have implemented multiple discounts, promotions, and benefits for the Tobs 20th Anniversary to show our appreciation. You can check out what we have in store this summer by clicking this link.
The Coastal Plain League is the nation's premier summer collegiate baseball league. Celebrating its 21st season in 2017, the CPL features 15 teams playing in Georgia, North Carolina, South Carolina and Virginia. The CPL has had over 1,400 alumni drafted and 106 of those – including 2011 AL MVP and Cy Young winner Justin Verlander – make their Major League debut; while another notable alum – Russell Wilson – won Super Bowl XLVIII. For more information on the Coastal Plain League, please visit the league website at www.coastalplain.com and follow us via Twitter @CPLBaseball.
Contact:
Drew Blevins
Phone:
(919) 818-1396