Updated April 06 2017
FLORENCE, S.C.-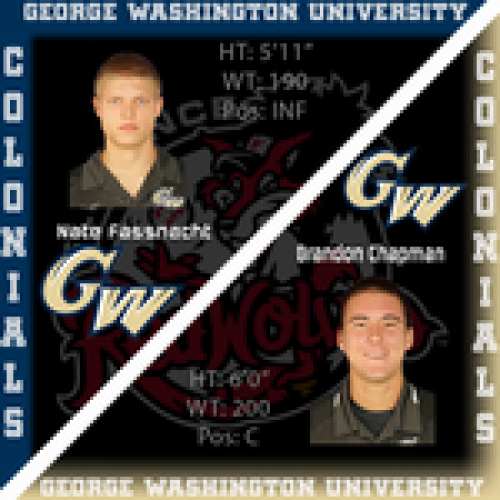 Summer is just a few months away as the days continue to wind down until the first pitch of the 2017 Coastal Plain League season is thrown. In the meantime, the Florence RedWolves have officially announced the addition of two hardened players from George Washington University.
Florence's first-year head coach Travis Graves has continued to build his 2017 depth chart with hardened experience and fresh prospects. It has been announced both Nate Fassnacht and Brandon Chapman will be joining the RedWolves for the upcoming summer.
Suiting up in the RedWolf Black and Red this season, Nate Fassnacht will be assisting the team through the middle infield. The 5-11, 190-pound freshman is the starting shortstop for the Colonials and has contributed effectively both offensively and defensively. From Ephrata, Pennsylvania, Fassnacht has started and played in all games for George Washington (as of 4/5). The Right-handed hitter is batting .292 with 31 hits, 16 runs scored, 6 RBI and 4 stolen bases.
While in high school, Fassnacht was a 2016 Rawlings Perfect Game Preseason All-American High Honorable Mention while participating in the 2016 Prep Baseball Report Super 60 national pro-showcase. Additionally, the middle-infielder was designated by Perfect game as a Top-500 player nationally, and named to the 2015 PG WWBA World Championship All-Tournament Team.
"Nate is a Freshman starting shortstop for GW," Graves said. "He is a highly-touted player out of HS and will help us in the middle of the lineup and in the middle of the field defensively."
Marching alongside Fassnacht will be fellow Colonial Brandon Chapman. Chapman is a six-foot, 200-pound catcher from Sarasota, Florida. The junior backstop has been a three-year starter behind the plate for George Washington, including a top accolade of being named to the 2015 Atlantic 10 All-Championship Team.
As a sophomore, Chapman appeared in 52 games with 50 starts (49 at C, 1 at DH), while batting .236 with 10 doubles, one home run and 22 RBI. In the summer of 2016 Chapman appeared in four games for the Brewster Whitecaps in the Cape Cod League, going 2-for-6 with a double and RBI. "Brandon brings a wealth of experience and is outstanding behind the plate," the Florence Skipper stated. "He also does a great job of handling a pitching staff."
Through his first 28 games in 2017 (as of 4/5), Chapman holds a .223 / .342 / .362 slash line with 21 hits, 11 RBI, 8 runs scored, and a .342 on base percentage.
The Florence RedWolves get their 2017 campaign underway May 30th, traveling to take on the Wilmington Sharks before returning home the following night, Wednesday, May 31st, to battle the Lexington County Blowfish. It will be our Home Opening Night and Magnet Schedule Giveaway, where the first 750 fans will receive a RedWolves magnet schedule courtesy of Carolina's Hospital Systems.
We will buy your dinner for four games, AND give you a chance to WIN $10,000!!!
Presented by Mandy Simpson State Farm
YES! You read that correctly! We will buy your dinner for four games, you can eat all you want, PLUS you will see three firework shows, have a guaranteed ticket to the July 3rd game, receive a RedWolves drawstring bag, and have a chance to WIN $10,000!!! This deal is perfect for the hungry fan that doesn't only have the appetite for RedWolves baseball, but all you can eat hot dogs, hamburgers and chips, along with soda and water.  The four game All You Can Eat & More package is priced at a total of $45!
HOST FAMILIES
Host families are a crucial, much-appreciated part of RedWolves baseball. Each summer, local families open their homes to our players and their generosity has helped us make the RedWolves a part of the Florence community for 18 years. Being a host family is a great opportunity for your family to connect with a college player while being part of the larger RedWolves family.
Host families provide room and board for a college player from the end of May through mid-August each year. All RedWolves players are student-athletes and are not paid to play in the Coastal Plain League. They come to Florence to further develop their skills and to catch the eyes of professional league scouts.
Being a host family can be very rewarding. For one, becoming a host family will earn you
FREE SEASON TICKETS!
If you are interested in becoming a host family with the RedWolves, please e-mail Barbara, Barbara@florenceredwolves.com, or call the RedWolves' office at 843-629-0700 and we will answer any questions you may have!

RedWolves Announce 2017 Summer Kids Baseball Camp Dates
Put it on your schedules, 2017 Summer Kids Baseball Camp will be a hit
The Florence RedWolves are pleased to announce the 2017 Summer Kids Baseball Camp dates have been released. Camp will be held from Monday, June 19th, through Thursday, June 22nd, 2017.
Each day of camp will run from 9:00am - 12:30pm, and the cost is $85.00 per player. Campers will need to bring their glove, bat, cleats, and a water bottle. Drinks will be readily available for $1 and water will be present while camp is in session.
With a new coaching staff and new players for the 2017 season, kids ages 6-15 will have a unique opportunity to practice and learn from today's college baseball stars and their championship winning coaches.
The 2017 Summer Kids Baseball Camp will be conducted at Sparrow Stadium on the campus of Francis Marion University, in conjunction with McLeod Sports Medicine. Campers should come dressed appropriately, well rested, hydrated and ready for great instruction.
RedWolves General Manager Barbara Osborne said, "I'm excited for another year of Kids Baseball Camp. It really gives a great learning environment that is a grand slam of fun for the kids."
Campers will be conducting drills on field, in the bullpens and in the batting cages practicing like the big guys do. "When the kids come off the field they feel like All-Stars. The RedWolves take great pride in that," Osborne stated.
2017 Kids Baseball Camp waiver forms can be found by visiting Florenceredwolves.com under the 'Schedule' tab, listed as 2017 Kids Camp. Payment must be sent with form, with checks made out to the Florence RedWolves Baseball, RedWolves Baseball PO Box 809 Florence, SC 29503.
—RedWolves—
The Coastal Plain League is the nation's premier summer collegiate baseball league. Celebrating its 22nd season in 2018, the CPL features 16 teams playing in Georgia, North Carolina, South Carolina and Virginia. The CPL has had over 1,450 alumni drafted and 109 of those – including 2011 AL MVP and Cy Young winner Justin Verlander – make their Major League debut; while another notable alum – Russell Wilson – won Super Bowl XLVIII. For more information on the Coastal Plain League, please visit the league website at www.coastalplain.com and follow us via Facebook, Twitter, Instagram and Snapchat @CPLBaseball..
Contact:
Audie Wise
Phone:
(843)-629-0700