Updated July 30 2016
WILSON, N.C.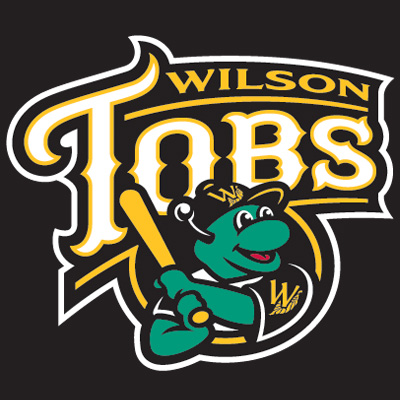 The Tobs secured their fifth straight victory in a win over the Edenton Steamers 3-0 on Saturday night.
The Tobs hosted Superhero Night where Wilson paid homage to the best comic book and movie heroes of all-time.
Entering the contest, Wilson needed four wins in their remaining seven to get a playoff spot. For Edenton, a win would have brought them within a half-game of fourth place.
Zack Mozingo (East Carolina) and Eric Scheuermann (Bradley) dueled through five innings without yielding an inch. Both teams were held below six hits through five innings as the pitchers stole the show.
Defensively, both the Clams and the Tobs turned a pair of 4-6-3 double plays, making it clear from the outset that ground balls were not going to get through two solid infields.
In the sixth inning, Logan Baldwin (Georgia Southern) rocked a single to score Chad Frazier (Concord), giving the Tobs a 1-0 lead. Baldwin would score on an RBI from Jimmy Latona (Mercyhurst).
In the seventh, Andrew Webster (Barton) blasted a solo shot to left center to make it 3-0 Tobs and Wilson never looked back.
Mozingo continued for eight complete innings with four strikeouts, no walks, and allowed only seven hits (one extra-baser).
Mozingo improves to 2-1 while Scheuermann falls to 2-3. The Tobs are now 27-22 being winners of five straight. The Steamers stumble to .500 at 24-24, putting a 12-year playoff streak on life support.
The Tobs need a pair of wins to secure the East's final spot. The Tobs are back at Fleming Stadium on Monday to face Petersburg.
The Wilson Tobs are proud to celebrate our 20th Anniversary Season within the Coastal Plain League. As an original member of the Coastal Plain League, the modern day Tobs have been lucky enough to celebrate each memorable season with the warm embrace of the Wilson community. We would like to dedicate each successful season to the Wilson Community, Coastal Plain League Organization, Host Families, Sponsors Partners, and the Dedicated Fans throughout the city of Wilson. Due to this tremendous support we have implemented multiple discounts, promotions, and benefits for the Tobs 20th Anniversary to show our appreciation. You can check out what we have in store this summer by clicking this link.
The Coastal Plain League is the nation's premier summer collegiate baseball league. Celebrating its 22nd season in 2018, the CPL features 16 teams playing in Georgia, North Carolina, South Carolina and Virginia. The CPL has had over 1,450 alumni drafted and 109 of those – including 2011 AL MVP and Cy Young winner Justin Verlander – make their Major League debut; while another notable alum – Russell Wilson – won Super Bowl XLVIII. For more information on the Coastal Plain League, please visit the league website at www.coastalplain.com and follow us via Facebook, Twitter, Instagram and Snapchat @CPLBaseball..
Contact:
Drew Blevins
Phone:
(919) 818-1396