Updated July 23 2016
WILSON, N.C.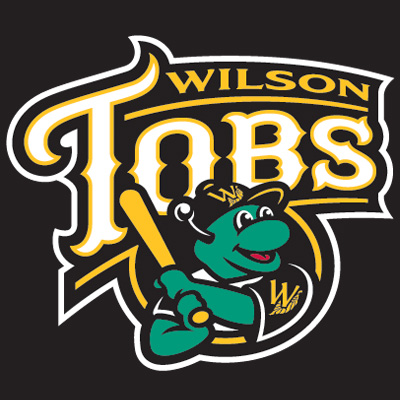 The Wilson Tobs scored a victory off of the Fayetteville SwampDogs by a final score of 4-1 on Saturday.
In front of a crowd of over 1,000, the game started as a defensive slugfest with only one hit through four-and-a-half innings.
CJ Ballard (Georgia Southern) clubbed a two-out double in the bottom of the fifth to become the first base runner to reach second all game. Chad Frazier (Concord) plated Ballard to give the Tobs the lead.
In the sixth inning, Wilson would add another run when Cameron Balego (Mercyhurst) scored on a Jack Larsen (UC-San Diego) single.
The Tobs hit a bump in the road in the eighth when Logan Corrigan (James Madison) roped a line drive to center to score Michael Bell (Georgia).
In the bottom of the eight though, a costly throwing error forced Fayetteville into playing a two-run price as Tyler Howsley (UC-San Diego) scored on the play and Baldwin would scored on a Balego sac fly in the next at bat.
Tanner Wilt (LaRoche) locked it down for the Tobs 1-2-3 in the ninth to give Wilson a 4-1 win.
Alex Yarem (Campbell) earned the win after the Tobs threw four pitchers (5-2). Yarem had two strikeouts in the sixth inning and never allowed a runner.
The loss goes to Mike Austin (UMBC) who pitched an impressive seven innings giving up only two earned runs with four strikeouts. Wilt earned the save for the Tobs (2).
After Sunday's off day, the Tobs play an exhibition at noon on Monday vs. Carolina. Make sure to bring the kids for Super Splash Day and Picnic in the Park. Wilson resumes CPL play on Tuesday at Wilmington.
The Coastal Plain League is the nation's premier summer collegiate baseball league. Celebrating its 22nd season in 2018, the CPL features 16 teams playing in Georgia, North Carolina, South Carolina and Virginia. The CPL has had over 1,450 alumni drafted and 109 of those – including 2011 AL MVP and Cy Young winner Justin Verlander – make their Major League debut; while another notable alum – Russell Wilson – won Super Bowl XLVIII. For more information on the Coastal Plain League, please visit the league website at www.coastalplain.com and follow us via Facebook, Twitter, Instagram and Snapchat @CPLBaseball..
Contact:
Drew Blevins
Phone:
(919) 818-1396