Updated April 03 2017
WILSON, N.C.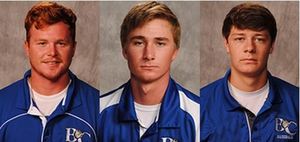 Continuing the tradition of sending local talent across town to the Tobs. Barton College will send over three prospects, Hunter Pearre, Dylan Ward, and Trent Fennell.
The first Bulldog to make the short trek to Historic Fleming Stadium this summer is utility player Hunter Pearre. A 5'9" Junior from Poolesville, MD., Pearre will look to make an immediate impact for the black and gold. During the 2017 campaign, Pearre is hitting at a solid .345 clip to go along with 8 XBHs in 110 ABs. Power is not the main tool for the junior as he has a great eye at the plate (walking 18 times compared to 11 K's) and speed on the base paths (9/10 in stolen base attempts).
Tobs skipper for 2017, Aaron Lynch, had these words to say in regards to the addition of the utility player "The ability of Hunter to play anywhere in the field for us is vital. This will allow us to shuffle players around to find the right fit to make our ballclub even more successful than last season. I look forward to seeing Hunter on the field for us this summer."
The next Barton College athlete to make his way across town is Sophomore righty Dylan Ward. The 6'1" pitcher from Laurinburg, NC has had great success in his two seasons at Barton. In 2016 Ward posted a 9-2 record with a 2.17 ERA and named to the NCBWA, D2CCA, and ABCA/Rawlings All-Southeast Region First Teams. This season, Ward is putting up stellar numbers yet again. In 44.2 IP the Soph. has struck out 39 while only allowing 10 free passes. A 3.63 ERA is good for 2nd on the team, only trails teammate and 2016 & 2017 Tob Trent Fennell, and his 5 wins on the campaign is tied for 1st on the club.
General Manager Mike Bell appears to be fond of adding Ward to an already deep pitching staff. "We have been keeping an eye on Dylan since his standout freshman season last year. By him being able to put up similar numbers again, we felt confident in going after him and adding him to our 2017 roster" said Bell.
Trent Fennell is the last of the Bulldogs to join the Tobs this season, but he is no stranger to the Tobs. Last summer in Wilson, Fennell joined the bullpen late in the 2016 season and posted a clean ERA in 4 IP. The Junior from Dunn, NC has seen an increase in time on the mound for Barton during this season. Thus far, Fennel has a clean 4-0 record and a team leading 3.12 ERA in 49 IP. Additionally, the righty leads the team with 64 K's, K/9, and complete games (2).
When asked about Fennell returning to the roster again in 2017, Lynch had praise for the arm, "His numbers speak for themselves this year. After seeing the start he's had thus far It was an arm that we definitely wanted to pursue since he had a history of playing for us last season. We're looking forward to Trent being a vital assent to our rotation and bullpen this summer."
The Wilson Tobs home opener for the 2017 season is Sunday, May 28th. Season tickets and ticket packages are on sale now and can be purchased by calling (252) 291-8627, or by visiting www.wilsontobs.com/tickets.
The Wilson Tobs enter their 21st season as an original member within the Coastal Plain League for the 2017 Summer. The upcoming season for the Tobs will see an expanded community outreach effort, increased participation in helping the less fortunate, and more exciting entertainment for the Wilson Community. We would like to dedicate each successful season to the Wilson Community, Coastal Plain League Organization, Host Families, Sponsors Partners, and the Dedicated Fans throughout the city of Wilson. The Wilson Tobs have played host to over 100 alumni taken in the draft and have produced a dozen players who have gone on to play in the MLB, including Cy Young & MVP winner Justin Verlander. For more information on the Wilson Tobs, visit our website www.wilsontobs.com. 
The Coastal Plain League is the nation's premier summer collegiate baseball league. Celebrating its 22nd season in 2018, the CPL features 16 teams playing in Georgia, North Carolina, South Carolina and Virginia. The CPL has had over 1,450 alumni drafted and 109 of those – including 2011 AL MVP and Cy Young winner Justin Verlander – make their Major League debut; while another notable alum – Russell Wilson – won Super Bowl XLVIII. For more information on the Coastal Plain League, please visit the league website at www.coastalplain.com and follow us via Facebook, Twitter, Instagram and Snapchat @CPLBaseball..
Contact:
Max Gagnon
Phone:
(252) 291-8627