Updated June 13 2015
PETERSBURG, VA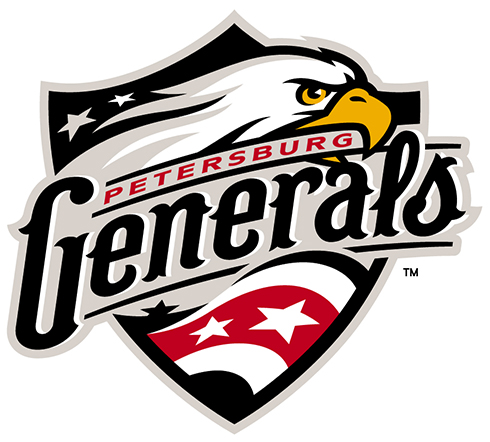 After 11 innings the Pilots (12-3) defeated the Generals (6-9) by the score of 10-7.
A light drizzle was the backdrop for the beginning of the ball game as the Pilots came to town riding the high of defeating the Generals 17-6 on Wednesday. Devin Sweet (1-1) started the game for the Generals, but struggled through the first half of the game allowing 5 runs in five innings. Petersburg however did battle back to take the lead 7-6 in the bottom of the seventh inning after a SAC fly by Kyle Vaas scored G.K. Young.
As celebration of finally defeating the Pilots crossed the minds of the spectators, a series of errors allowed Will Shepherd to score and tie the ball game. With the opportunity of a walk off win, the next three Generals players went down in order and off to extra innings the game went.
Devin Repine (0-1) came in to keep the Pilots at bay and did so in the tenth inning, but during the bottom half of the inning the Generals failed to produce any runs. As the eleventh inning got underway, a crucial error by Repine allowed Will Shepherd to load the bases. The Pilots broke the lead after Repine walked Luke Toms allowing Connor Myers to score. Peninsula added two more insurance runs before the Generals could get out the inning. Santangelo (2 saves) came on in relief of Hartman and did not allow the Generals to score leaving two men on base.
Nick Hartman gets the win (2-0) and Devin Repine gets the loss (0-1). The Generals will be off tomorrow as they prepare for a two day road trip to Lexington County, SC to play the Blowfish and Florence, SC to play the Redwolves. After a day of rest the Generals will then travel to Hampton to battle the Pilots on next Thursday. Petersburg will return home next Friday, June 19th to face the Wilmington Sharks.
For additional information, please call 804-733-2394 or 804-722-0141 or visit us on the web at
www.petersburggenerals.com.
The Coastal Plain League is the nation's premier summer collegiate baseball league. Celebrating its 22nd season in 2018, the CPL features 16 teams playing in Georgia, North Carolina, South Carolina and Virginia. The CPL has had over 1,450 alumni drafted and 109 of those – including 2011 AL MVP and Cy Young winner Justin Verlander – make their Major League debut; while another notable alum – Russell Wilson – won Super Bowl XLVIII. For more information on the Coastal Plain League, please visit the league website at www.coastalplain.com and follow us via Facebook, Twitter, Instagram and Snapchat @CPLBaseball..
Contact:
Derrick Sydnor
Phone:
804-722-0141