Updated June 29 2017
HOLLY SPRINGS, N.C.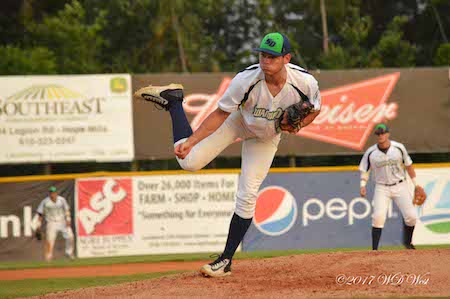 The Fayetteville SwampDogs (15-10) are in 1st place in the East Division with 3 games left in this year's first half following a 3-1 victory over the Holly Springs Salamanders (11-15) at ting Stadium on Thursday night.
Reigning Coastal Plain League Pitcher of the Week Griffin McLarty (College Charleston) delivered a follow-up stellar performance striking out eight 'Manders while giving up just one run over 7 innings to improve to 4-0 on the season.
The SwampDogs offense was effective when needed with Juwan Burney (Delta State) driving home Andrew Henrickson (East Carolina) for the first run of the game in the second inning.
Jameel Edney (Bethune-Cookman) doubled the lead in the third inning by driving a grounder through the legs of the Salamanders first baseman for the first run of the game on the error, with Austin Edgette (Bloomsburg) scoring to make it 2-0.
A solo home run from Dalton Hoiles (Shippensburg) cut the SwampDogs lead in half in the bottom of the third before the SwampDogs would cement their lead for good in the fourth.
Brett Helmbrecht (Coppin State) drove in Henrickson to provide the final run of the game for either side on Helmbrecht's first RBI of the season.
Justice Sampson (NC Central) would replace McLarty in the 8th and close the door on the Salamanders to earn his third save of the season dealing four strikeouts in his 10th appearance of the season.
The SwampDogs return to The Swamp on Friday for Faith and Family night against the Wilmington Sharks. The first-half of the regular season concludes with a double-header in Fayetteville against Florence. First pitch is at 7:05 with the gates opening at 6 on Friday, while the first game of the doubleheader on Saturday begins at 6:05 with the gates opening at 5. For all your SwampDogs news and updates please visit GoSwampDogs.com and follow us on Twitter @GoSwampDogs. The SwampDogs season is presented by Fayetteville Kia.
The Coastal Plain League is the nation's premier summer collegiate baseball league. Celebrating its 22nd season in 2018, the CPL features 16 teams playing in Georgia, North Carolina, South Carolina and Virginia. The CPL has had over 1,450 alumni drafted and 109 of those – including 2011 AL MVP and Cy Young winner Justin Verlander – make their Major League debut; while another notable alum – Russell Wilson – won Super Bowl XLVIII. For more information on the Coastal Plain League, please visit the league website at www.coastalplain.com and follow us via Facebook, Twitter, Instagram and Snapchat @CPLBaseball..
Contact:
Leo Blavin
Phone:
(910)-426-5900