Updated June 28 2017
FAYETTEVILLE, N.C.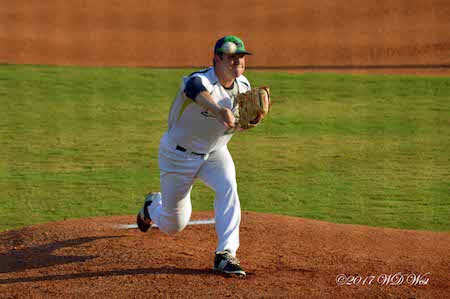 The Fayetteville SwampDogs (14-10) needed a victory on Wednesday night to remain in the hunt for the 1st-Half East Division crown. Following the Dogs throttling of the Morehead City Marlins (13-13) by a score of 8-5, Fayetteville once again finds itself just one-half game back of 1st place, with 4 games left to play in the season's first-half.
Nick Ernst (Miami-Ohio) continued his dominance on the rubber, tossing 7 shutout innings to pick up his third win in four decisions. Ernst put himself in a position to potentially earn his second CPL Pitcher of the Week nod, but the SwampDogs bats were not overshadowed by the righty's strong outing.
The SwampDogs took a 1-0 lead in the 2nd when Jonathan Allen (San Francisco) scored on a wild-pitch. Fayetteville would add two more in the fourth inning when Michael Farnell (Murray State) dropped his first bomb of the year out to right-centerfield, his two-run shot putting Fayetteville up 3-0.
The SwampDogs offense wasn't done as they would plate five more runs in the next two innings with Andrew Henrickson (East Carolina) scoring on a Morehead City fielding error and Jason Newman (Cal State Northridge) driving in two more SwampDogs with a double to left field in the fifth. The SwampDogs final runs came from Henrickson and Jameel Edney (Bethune-Cookman) putting Fayetteville on top for good.
The Marlins would rally late to close within three, but Ricky Heagarty (Austin Peay) closed the door on the fish in the ninth inning, a non-save situation.
Ernst improved to (4-1), while Marlins starter Nick Gobert (Southern Indiana) (0-1), dropped his first decision of the season.
The SwampDogs head to Holly Springs to face the Salamanders, before returning to The Swamp on Friday for Faith and Family night against the Wilmington Sharks. First pitch is at 7:05 with the gates opening at 6. For all your SwampDogs news and updates please visit GoSwampDogs.com and follow us on Twitter @GoSwampDogs. The SwampDogs season is presented by Fayetteville Kia.
The Coastal Plain League is the nation's premier summer collegiate baseball league. Celebrating its 22nd season in 2018, the CPL features 16 teams playing in Georgia, North Carolina, South Carolina and Virginia. The CPL has had over 1,450 alumni drafted and 109 of those – including 2011 AL MVP and Cy Young winner Justin Verlander – make their Major League debut; while another notable alum – Russell Wilson – won Super Bowl XLVIII. For more information on the Coastal Plain League, please visit the league website at www.coastalplain.com and follow us via Facebook, Twitter, Instagram and Snapchat @CPLBaseball..
Contact:
Leo Blavin
Phone:
(910)-426-5900