Updated April 17 2017
EDENTON, N.C.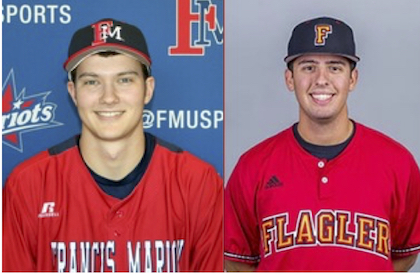 The Steamers are excited to announce the signing of two players from the NCAA Division II Peach Belt Conference. The Teal and Black have inked William Robbins and Nick Martínez.
William Robbins will come to the Steamers from the Francis Marion University Patriots out of South Carolina. The 6'2" 200-pound redshirt-junior is an athletic backstop who has seen some time in left field this spring for the Patriots when injuries hit their outfield. The Rock Hill, SC native has ample experience behind the plate and is blessed with a throwing arm that should be among the best in the CPL this summer.
The right-handed catcher and outfielder has come into his own, offensively, at the plate this spring and been an anchor in the middle of Francis Marion's lineup. He is batting a team-leading .336 with .420/.436/.856 averages to fill out his slash line and has also controlled the zone well with 17 walks to 22 strikeouts. Behind the dish, he has played error-free in 130 chances with only three passed balls and thrown out 26.3 percent of opposing base-stealers.
Nick Martínez will come to the Steamers from the Flagler College Saints out of the stae of Florida. The 5'11" 185-pound redshirt-sophomore is an arm-angle southpaw who creates great deception and movement on his pitches from a lower slot. The Davie, FL native has shown the ability to get outs against hitters from both sides. Martínez should create an especially tough look for left-handed batters this summer. He is not a typical finesse guy for a college pitcher with his delivery, as the fastball runs 84-87 miles per hour to go along with a wipeout breaking ball for strikeouts when he is on. The left-hander also features an elastic arm that allows him to toss multiple innings or work on consecutive days.
Martínez has been a multi-inning middle reliever this season for the Saints. He has one start and one save in his 17 appearances in 2017, totaling 32.1 innings with 39 strikeouts to just 11 walks; and he has fanned an impressive 37.5 percent of left-handed batters faced.
The Edenton Steamers will proudly be celebrating their 20th anniversary season as a member of the Coastal Plain League in 2017. The season will begin on Tuesday May 30th when the Morehead City Marlins visit Historic Hicks Field. Be sure to follow the Teal and Black on social media to stay up to date with all things Steamers. You can find the team on Facebook @EdentonSteamers, Twitter @EdentonCPL, Instagram @edentonsteamers, and Snapchat @edentonsteamers. For more information visit edentonsteamers.com or call (252) 482-4080.
The Coastal Plain League is the nation's premier summer collegiate baseball league. Celebrating its 22nd season in 2018, the CPL features 16 teams playing in Georgia, North Carolina, South Carolina and Virginia. The CPL has had over 1,450 alumni drafted and 109 of those – including 2011 AL MVP and Cy Young winner Justin Verlander – make their Major League debut; while another notable alum – Russell Wilson – won Super Bowl XLVIII. For more information on the Coastal Plain League, please visit the league website at www.coastalplain.com and follow us via Facebook, Twitter, Instagram and Snapchat @CPLBaseball..
Contact:
Elijah Gonzalez
Phone:
(252)-482-4080