Updated July 14 2016
HOLLY SPRINGS, NC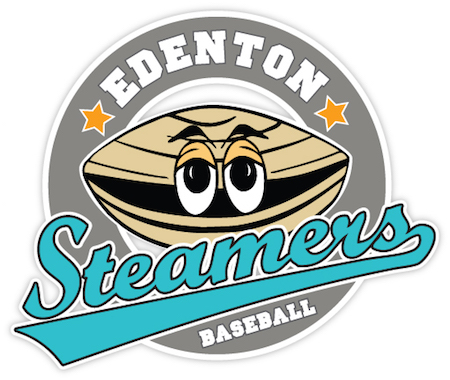 The Edenton Steamers returned from the All-Star break with a 10-3 win over the Holly Springs Salamanders on Wednesday night. Edenton (5-2, 17-18) evened the season series with Holly Springs (4-2, 14—18) in their final meeting of the regular season.
Randy Dobnak earned the win for the Teal and Black. Dobnak (4-2) hurled six innings, surrendering three runs on seven hits with one walk and six strikeouts.
Chandler Sanburn shouldered the loss for the Salamanders. Sanburn (0-3) lasted 3.2 innings, allowing four runs on six hits while walking three batters and fanning four.
The Steamers struck first in the opening frame. With two outs, Aaron Aucker walked, scoring on a Tony Rosselli double. Bobby Schuman followed with a single to plate Rosselli and give Edenton a 2-0 lead.
The Clams doubled their advantage in the fourth, courtesy of another two-out rally. Three consecutive singles from Ben Prada, Richie Cunningham and Trey Hair pushed across two more runs, and the Steamers took a 4-0 lead into the fifth.
Edenton added four more runs in the following inning. Rosselli drew a walk to start the frame, stealing second and advancing to third when catcher Jacob Washer's throw soared into centerfield. Two batters later, Mitchell Price grounded out to second to score Rosselli. The Teal and Black worked more of their two-out magic, starting when Brandon Gragilla reached on a throwing error by second baseman Drew Butler. Zack Jones followed with a walk and Prada plated both runners with a double. Cunningham finished off the scoring with his second RBI single.
The Salamanders picked up their only three runs in the sixth. Holly Springs strung together two singles and a double to bring in a run and leave two in scoring position. Cody Roberts bounced a groundball to short to bring in another, and Mike Sconzo's two-out single brought the score to 8-3.
The Clams added two more in the ninth. Schuman and Price started the inning with a single and a double, respectively, both coming home when shortstop Danny Sheehan fired throw past first base and into foul territory down the right-field line.
The Edenton Steamers return home to face the Wilson Tobs at 7 p.m. on Thursday night. After a doubleheader in Petersburg on Friday, the Steamers finish the week at home with a Saturday-night tilt against the Peninsula Pilots. For more information, fans can call (252) 482-4080 or visit edentonsteamers.com.
The Coastal Plain League is the nation's premier summer collegiate baseball league. Celebrating its 22nd season in 2018, the CPL features 16 teams playing in Georgia, North Carolina, South Carolina and Virginia. The CPL has had over 1,450 alumni drafted and 109 of those – including 2011 AL MVP and Cy Young winner Justin Verlander – make their Major League debut; while another notable alum – Russell Wilson – won Super Bowl XLVIII. For more information on the Coastal Plain League, please visit the league website at www.coastalplain.com and follow us via Facebook, Twitter, Instagram and Snapchat @CPLBaseball..
Contact:
Chris Lehman
Phone:
(919) 559-6863