Updated August 01 2016
HOLLY SPRINGS, N.C.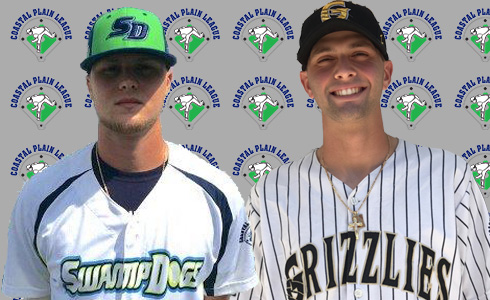 The Coastal Plain League announced today that Hunter Slater of High Point-Thomasville was named Hitter of the Week, while Canaan Cropper of Lexington County earned Pitcher of the Week for the ninth week of CPL action (July 25-July 31.)
Slater, a red-shirt freshman at Southern Miss, was a force at the plate for the HiToms in week nine, finishing with a .480 average over six games played. Across that span, Slater managed 12 hits in 25 at-bats with one triple and one home run for 17 total bases and three RBIs for a .680 slugging percentage. The infielder also drew two walks for a .519 on-base percentage, helping him score six runs on the week.
On the mound, Cropper was dominant for the Blowfish on July 26 as he held the Florence RedWolves scoreless over eight innings while striking out ten for a .077 opponent's batting average. The South Carolina junior earned the win allowing only two walks and two hits on the night for a .500 WHIP.
The Coastal Plain League is the nation's premier summer collegiate baseball league. Celebrating its 20th season in 2016, the CPL features 16 teams playing in Georgia, North Carolina, South Carolina and Virginia. The CPL has had nearly 1,300 alumni drafted and 88 of those – including 2011 AL MVP and Cy Young winner Justin Verlander – make their Major League debut; while another notable alum – Russell Wilson – won Super Bowl XLVIII. For more information on the Coastal Plain League, please visit the league website at www.coastalplain.com and follow us via Twitter @CPLBaseball.
Contact:
Shelby Hilliard
Phone:
919-852-1960