Updated May 16 2017
FLORENCE, S.C.-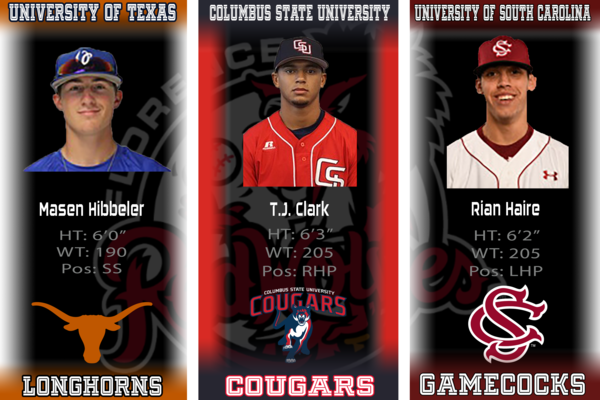 With 14 days to go until the Florence RedWolves take the field for their 20th season in Florence, it has been officially announced by the organization and head coach Travis Graves, Masen Hibbeler, TJ Clark and Rian Haire have signed to be RedWolves for the 2017 season.
Masen Hibbeler joins the roster for the RedWolves signed and ready to play with the University of Texas. A sophomore from Cypress, Texas, Hibbeler will assist the Red and Black at the shortstop position. Hibbeler is a sophomore transfer to the Longhorns, but spent the past two seasons previously with Odessa Community College in Odessa Texas.
In his two years as a Wrangler, the six-foot, 190-pound right-handed hitter posted a .399 average with 63 RBI, 37 extra base hits, 34 walks and 25 stolen bases. "He is a great athlete, that is a plus defender up the middle and can hit for power in the middle of our lineup," head coach Travis Graves said. "Right now, he is hitting .500 with 9 homeruns and is ranked the 129th/150 top prospects by PG CollegeBall."
Secondly, T.J. Clark out of Columbus State will be suiting up for Florence in 2017. A 6-3, 205-pound pitcher out of Mabelton, Georgia, Clark redshirted with the Cougars this season. The right-handed pitcher previously played at North Carolina A&T and Chipola College, making 25 appearances with a 4-5 record in 88.0 innings pitched, while striking out 70 batters in those two years. "T.J. is redshirted this spring because of transfer rules, but looks to be a big contributor to Columbus State next spring, said Graves. "He will give us more depth on the mound for starting pitchers and I expect him to win games for us. Clark controls the strike zone and has three quality pitches he can throw for strikes."

The RedWolves added a second arm to this trio of players. Rian Haire, a left-handed, redshirt-freshman pitcher from the University of South Carolina. A native of Hudson, North Carolina, Haire was a Phenom out of South Caldwell High School. Among his many accolades, Haire was rated the number two best high school prospect in the state of North Carolina by Perfect Game and the number 51 best high school prospect in the nation by D1Baseball. "The Gamecock coaches look for him to be an impact arm next spring," Graves mentioned. "Rian is a guy that sits 89-92 MPH from the left side, with good arm side run. He will be very effective as a starter for us in the summer."
The Florence RedWolves get their 2017 campaign underway May 30th, traveling to take on the Wilmington Sharks before returning home the following night, Wednesday, May 31st, to battle the Lexington County Blowfish. It will be our Home Opening Night and Magnet Schedule Giveaway, where the first 750 fans will receive a RedWolves magnet schedule courtesy of Carolina's Hospital Systems.
On Saturday, June 3rd, the Florence RedWolves will be presenting Grand Opening Night as they take on the Martinsville Mustangs. It will also be First Responders Night at Sparrow Stadium. All First Responders will be admitted FREE into the park, part of the RedWolves' appreciation for their sacrifices made on a daily basis. Additionally, June 3rd is the first game of the 2017 All You Can Eat Four Game Ticket Package Presented by Mandy Simpson State Farm. AYCE Ticket Packages can be bought online at Florenceredwolves.com (Click Here) or by calling the RedWolves' box office at 843-629-0700.
We will buy your dinner for four games, AND give you a chance to WIN $10,000!!!
Presented by Mandy Simpson State Farm
YES! You read that correctly! We will buy your dinner for four games, you can eat all you want, PLUS you will see three fireworks shows, have a guaranteed ticket to the July 3rd game, receive a RedWolves drawstring bag, and have a chance to WIN $10,000!!! This deal is perfect for the hungry fan that doesn't only have the appetite for RedWolves baseball, but all you can eat hot dogs, hamburgers and chips, along with soda and water.  The four game All You Can Eat & More package is priced at a total of $45!
Buy Tickets Here
—RedWolves—
The Coastal Plain League is the nation's premier summer collegiate baseball league. Celebrating its 22nd season in 2018, the CPL features 16 teams playing in Georgia, North Carolina, South Carolina and Virginia. The CPL has had over 1,450 alumni drafted and 109 of those – including 2011 AL MVP and Cy Young winner Justin Verlander – make their Major League debut; while another notable alum – Russell Wilson – won Super Bowl XLVIII. For more information on the Coastal Plain League, please visit the league website at www.coastalplain.com and follow us via Facebook, Twitter, Instagram and Snapchat @CPLBaseball..
Contact:
Audie Wise
Phone:
(843)-629-0700