Updated June 30 2017
FAYETTEVILLE, N.C.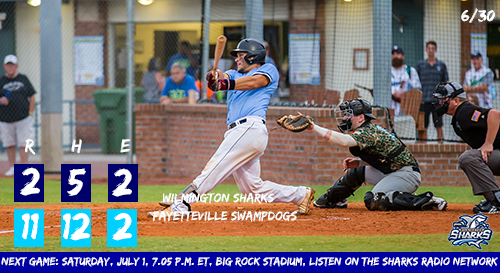 It was a rough night on the mound for Sharks starter Luke Gesell. The UNC-Wilmington freshman worked 4 and a third innings and allowed 10 runs, 9 earned on 8 hits in Wilmington's 11-2 loss at Fayetteville.
The Sharks jumped out on top 2-0 in the top of the 1st. Wilmington loaded the bases on a Luke Morgan single to extend his hitting streak to 13. Trevor McCutchin drove in Justin Dean on a sacrifice fly to left field. Then, Riley Knudsen grounded out to second base to score Michael Sandle. The next 8 innings would be a struggle for the Sharks offense.
Fayetteville was retired 1-2-3 in the first, but took off from there. In the second, the SwampDogs scored 4 runs on 3 hits. With 2 outs, Jonathan Allen laced a double down the right field line to give Fayetteville the lead it would hold for good.
In the third, Andrew Henrickson and Jameel Edney hit back-to-back singles to lead off the inning. Fayetteville went on to hit Gesell around for 4 hits and 3 more runs to take a 7-2 lead. Meanwhile, the Sharks were sat down in short order the next two innings in the 4th and 5th against Matt Acosta.
The SwampDogs offense wasn't finished. In the 5th, Luke Gesell walked the bases loaded with one out before being pulled from the contest. Mitch Spence came in and allowed three straight singles that scored three more runs. A wild pitch from Spence plated a fourth run and put Fayetteville on top 11-2. With 2 outs, Justin Dean scaled the wall in left center field to rob Jayson Newman of a 3-run home run to end the inning.
The Sharks had just 1 hit from the 6th inning to the finish, as the bats never got started for Wilmington. Matt Acosta (1-0) picked up the win for Fayetteville and Luke Gesell (1-2) fell to 0-2 against the SwampDogs this season.
The Sharks end a four game round swing tomorrow in Morehead City. First pitch is at 7:05 from Big Rock Stadium. Coverage on the Sharks Radio Network begins at 6:50 with Sharks Pregame.
The Coastal Plain League is the nation's premier summer collegiate baseball league. Celebrating its 22nd season in 2018, the CPL features 16 teams playing in Georgia, North Carolina, South Carolina and Virginia. The CPL has had over 1,450 alumni drafted and 111 of those – including 2011 AL MVP and Cy Young winner Justin Verlander – make their Major League debut; while another notable alum – Russell Wilson – won Super Bowl XLVIII. For more information on the Coastal Plain League, please visit the league website at www.coastalplain.com and follow us via Facebook, Twitter, Instagram and Snapchat @CPLBaseball..
Contact:
Sam Rubinoff
Phone:
5617169672