Updated July 07 2017
FAYETTEVILLE, N.C.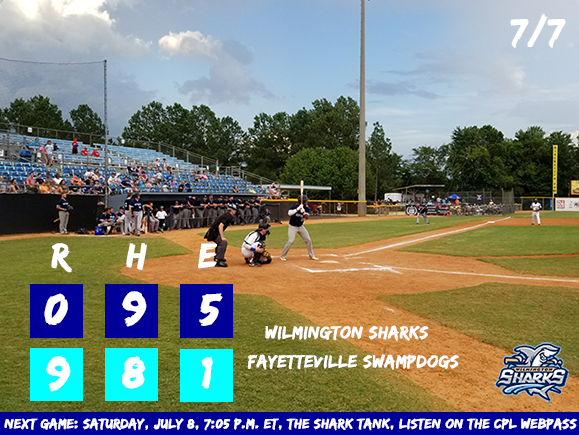 From the get-go, Wilmington struggled against the Fayetteville SwampDogs on the road. Errors doomed the Sharks as Wilmington lost 9-0 to end its four game win streak.
In the first, the Sharks put two hits together with one out. Trevor McCutchin then lined out to the first baseman Jayson Newman. The visitors then committed two errors in the bottom of the inning. Luke Morgan misplayed a ground ball allowing Austin Edgette aboard. Then, Edgette stole second and advanced on an overthrow by Brian Parreira. The SwampDogs center fielder scored on a sacrifice fly by Matt Morrow.
Mike Spooner led off the bottom of the second and crushed a home run over the right field wall. Fayetteville led 2-0 midway through the third inning before a thirty-minute lightning delay.
Once play resumed, Matt Acosta picked up right where he left off on the mound. The sophomore righty retired 10 straight Sharks batter from the second inning until a Cam Locklear single in the 5th. In the bottom of the 5th, Fayetteville tacked on another run after Austin Edgette reached on Luke Morgan's fourth error of the night. Edgette scored after advancing on wild pitches from Luke Gesell.
In the 6th, Fayetteville added three more against the Sharks. Jose Rojas singled into right field with the bases loaded to drive home two runs and end Gesell's night. Then against Ryan Hall, Austin Edgette singled into right to drive home Juwan Burney. Fayetteville capped its scoring with three more runs in the 8th. Jayson Newman walked with the bases loaded against Tim Salvadore to score Rojas. Then, Mike Spooner singled to right to score two more runs and put the SwampDogs on top 9-0.
Wilmington is now 3-8 against Fayetteville this season at 2-3 at Fayetteville. The 9-0 loss is also the first time the Sharks have been shut out this season and are now 4-2 in the 2nd half and 17-17 overall.
Matt Acosta (2-0) picked up his second win against Wilmington, while Luke Gesell (1-3) lost for the third time against Fayetteville.
The Sharks return home to face Edenton tomorrow for the final game before the All-Star break. First pitch from the Shark Tank is at 7:05. Coverage begins at 6:50 with Sharks Pregame on the CPL Webpass.
The Coastal Plain League is the nation's premier summer collegiate baseball league. Celebrating its 22nd season in 2018, the CPL features 16 teams playing in Georgia, North Carolina, South Carolina and Virginia. The CPL has had over 1,450 alumni drafted and 109 of those – including 2011 AL MVP and Cy Young winner Justin Verlander – make their Major League debut; while another notable alum – Russell Wilson – won Super Bowl XLVIII. For more information on the Coastal Plain League, please visit the league website at www.coastalplain.com and follow us via Facebook, Twitter, Instagram and Snapchat @CPLBaseball..
Contact:
Sam Rubinoff
Phone:
5617169672