Updated July 02 2017
WILMINGTON, N.C.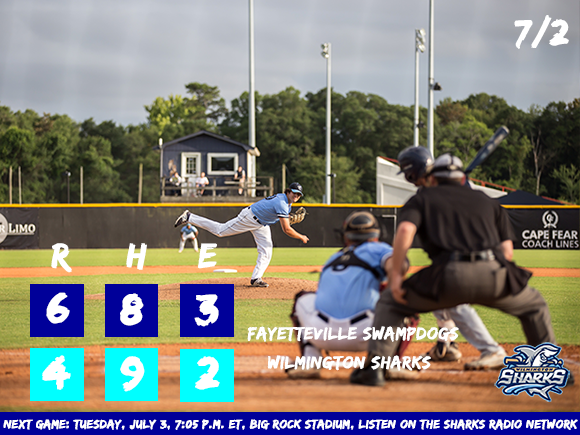 The Sharks began the second half of the CPL season at home against a familiar opponent, the Fayetteville SwampDogs. This contest would end the same way as the first four at the Shark Tank, with the visitors on top.
Wilmington scored two runs in the first inning for the second straight game against the Dogs. Justin Dean and Luke Morgan were both walked by starter Shane Bishop. Dean then scored on Riley Knudsen's RBI double to left center field. With runners at second and third, Shane Bishop's wild pitch allowed Morgan to score and the Sharks led 2-0.
In the top of the second, Fayetteville pulled a run back on the solo home run by Justin Hawkins, his fourth of the season. Wilmington responded with a run in the third on Riley Knudsen's second base hit that scored Luke Morgan.
The Sharks starter Daniel Johnson cruised to the 5th inning allowing just one run on two hits, and struck our four to that point. Things started to go south for the southpaw in the fifth. The SwampDogs had the bases loaded with two outs trailing 3-1. Jayson Newman singled to score two and runners advanced to second and third on a throwing error by Michael Sandle. Then, Daniel Johnson balked home a run to give Fayetteville it's first led. The next batter, Justin Hawkins, hit his second home run of the game to put the visitors on top 6-3.
The Sharks would have their opportunities after falling down three. In the 5th, Wilmington left 2 on base with two outs. Then in the 6th, Wilmington loaded the bases with two outs, but Trevor McCutchin struck out looking.
In the 9th, the Sharks loaded the bases again, this time with just one out. Fayetteville closer Justice Sampson was pulled in favor of right fielder Jayson Newman. The 6'4" right-hander struck out the next two batters to hand Wilmington the loss. The Sharks left 13 runners on the base paths.
Michael Lozano (2-0) pitched a scoreless fourth inning to receive the win, Daniel Johnson (4-2) lost and Jayson Newman earned his first save.
The Sharks are back on the road tomorrow in Morehead City. First pitch is at 7:05 from Big Rock Stadium. Coverage on the Sharks Radio Network begins at 6:50 with Sharks Pregame.
The Coastal Plain League is the nation's premier summer collegiate baseball league. Celebrating its 21st season in 2017, the CPL features 15 teams playing in Georgia, North Carolina, South Carolina and Virginia. The CPL has had over 1,400 alumni drafted and 106 of those – including 2011 AL MVP and Cy Young winner Justin Verlander – make their Major League debut; while another notable alum – Russell Wilson – won Super Bowl XLVIII. For more information on the Coastal Plain League, please visit the league website at www.coastalplain.com and follow us via Twitter @CPLBaseball.
Contact:
Sam Rubinoff
Phone:
5617169672