Updated June 21 2017
WILMINGTON, N.C.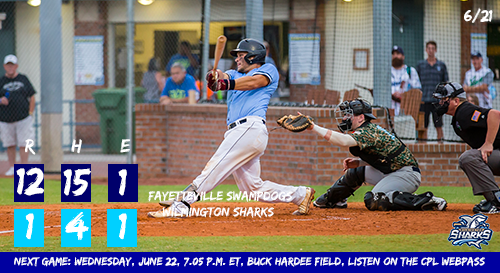 The Sharks and the SwampDogs met for a second consecutive night after Fayetteville's 5-2 win last night in Wilmington.
After a scoreless first, the visitors scored twice against the Sharks starter Logan Michaels (0-1). Fayetteville singled three times in the inning, including Austin Edgette's back up the middle to score the game's first run. The Dogs tacked on the second run on a sacrifice fly by Matt Morrow.
In the 3rd, Fayetteville scored three more against the Sharks to take a five run lead. Jameel Edney hit a solo home run to lead off the inning to chase the starter Logan Michaels. Wilmington's reliever then allowed three more runs, including two on an Austin Edgette 2 RBI single. The Sharks answered on doubles by Justin Dean and Luke Morgan to score Wilmington's only run of the game.
Fayetteville tacked on another run in the fifth to extend the lead to 6-1 over the Sharks.
Wilmington's offense struggled all night against SwampDogs start Zach Neff (3-0). The lefty went 8 innings, allowed just 1 run on 4 hits while striking out 5 in the contest. The Sharks only mustered 6 base runners the entire night against Neff.
In the 8th, the SwampDogs scored 5 more runs against Mitch Spence and Tim Salvadore out of the Sharks bullpen. The half inning was helped by a 3-run home run to left field by Mike Spooner, the third long bomb of the night for the visitors. Jay Robinson hit the SwampDogs 4th home run of the night, a solo shot in the top of the 9th.
Logan Michaels picked up the loss for the Sharks, while Zach Neff earned the win. Wilmington is now 7-12 on the summer and 1-9 at home.
The Sharks are home again tomorrow night against Wilson. First pitch against the Tobs is at 7:05. Coverage on the CPL Webpass begins at 6:50 with The Sharks Pregame Show.
The Coastal Plain League is the nation's premier summer collegiate baseball league. Celebrating its 22nd season in 2018, the CPL features 16 teams playing in Georgia, North Carolina, South Carolina and Virginia. The CPL has had over 1,450 alumni drafted and 111 of those – including 2011 AL MVP and Cy Young winner Justin Verlander – make their Major League debut; while another notable alum – Russell Wilson – won Super Bowl XLVIII. For more information on the Coastal Plain League, please visit the league website at www.coastalplain.com and follow us via Facebook, Twitter, Instagram and Snapchat @CPLBaseball..
Contact:
Sam Rubinoff
Phone:
561-716-9672