Updated August 03 2016
FLORENCE, S.C.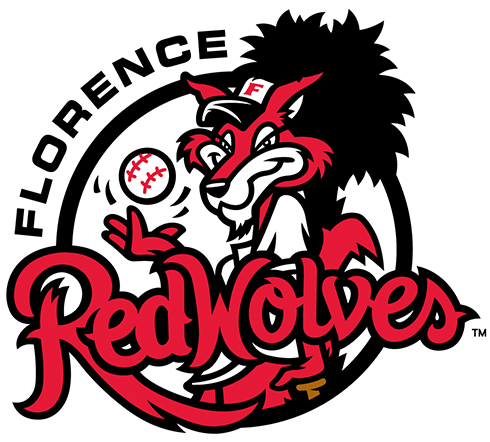 The RedWolves used four seventh inning runs, including a bases clearing triple, to pull away from Lexington County 9-4 on Tuesday.
The RedWolves (22-26, 13-8) would get started early with a sacrifice groundout by Ryan Kent (Morehead State) to score the game's first run in the bottom of the 1st inning. Marc DiLeo (Mercyhurst) would get an two RBI single in the 2nd to add two more RedWolf runs to the lead. DiLeo would finsih 2-for-2 with two RBIs and scored a run.
The Blowfish (24-27, 8-15) would score in the 2nd off a Dalton Ewing (Coastal Carolina) RBI single. The Blowfish would cut the lead to 3-2 after an RBI double by Adam Sasser (Georgia). Sasser would finish 2-for-4 with three RBIs and scored a run.
The RedWolves would answer however with a sacrifice fly by Nate Wierzgac (Lee University) and Trey Jacobs (UNC Greensboro) would score off a wild pitch in the 4th to go up 5-2.
Sasser would hit a two run homerun in the sixth to cut the RedWolves lead to 5-4. The RedWolves would respond with a big seventh inning, scoring four runs including a bases clearin three RBI triple by Kody Reudisili (Wofford College). Ruedisilli would finish 2-for-2 with three RBIs, and scored two runs.
The RedWolves go on the road to Lexington County tomorrow, resuming Monday's game that was suspended due to rain at 5:05 PM. RedWolves lead that one 2-0 in the top of the third inning. They will play another nine inning game afterwards against the Blowfish as well.
Florence returns home on Thursday, August 4 for NASCAR Night against High Point-Thomasville. Come see the Darlington Raceway 500 and register to win tickets to the Bojangles 500.
Isaac Rodgers (Erskine) would make his debut for Florence, getting the win after going 5.1 innings giving up six hits, four runs, and threw six strikeouts and two walks. Cable Wright (Morehead State) would finish the game for Florence, earning his second save of the season, going 3.2 innings played, allowing two hits, no runs, and throwing two strikeouts and one walk.
Connor Pate (Francis Marion) would earn the loss, his first of the season, going 3.2 innings allowing three hits, five runs, and throwing six walks and zero strikeouts. James Townsend-Chase (Western Michigan) would go 2.1 innings for the Blowfish, allowing zero runs, zero hits, and throwing one ball and one strikeout. Colton Provey (South Carolina) went one inning for Lexington, allowing four runs, four hits, throwing one walk and three strikeouts. Steve Pastora (Western Michigan) would close out the game for Lexington County.
The Coastal Plain League is the nation's premier summer collegiate baseball league. Celebrating its 22nd season in 2018, the CPL features 16 teams playing in Georgia, North Carolina, South Carolina and Virginia. The CPL has had over 1,450 alumni drafted and 109 of those – including 2011 AL MVP and Cy Young winner Justin Verlander – make their Major League debut; while another notable alum – Russell Wilson – won Super Bowl XLVIII. For more information on the Coastal Plain League, please visit the league website at www.coastalplain.com and follow us via Facebook, Twitter, Instagram and Snapchat @CPLBaseball..
Contact:
Richard Martin
Phone:
(843) 629-0700