Updated July 26 2016
EDENTON, NC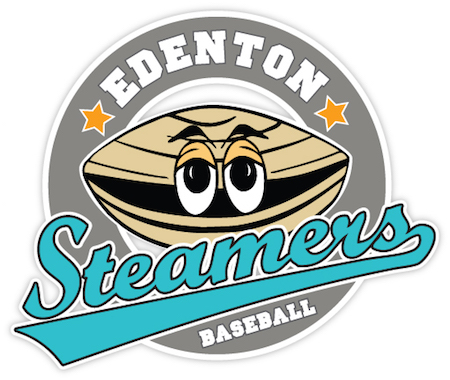 The Edenton Steamers were outscored 19-12 by the Morehead City Marlins on Monday night. Edenton (12-4, 24-20) surrendered a whopping 15 runs in the second inning, and Morehead City (9-6, 23-19) went on to win its fifth straight contest.
Austin Slough took the loss for the Teal and Black. Slough (0-1) hurled just 1.1 innings, allowing 10 earned runs on as many hits while striking out two.
Robert Winborne earned his first win for the Marlins. Winborne (1-0) last seven innings, giving up eight earned runs on 10 hits and four walks to two strikeouts.
The Clams took a 2-0 advantage in the bottom of the first, but Morehead City ran away in the second. After Christian Campbell led off with a single, Romeo Cortina and Mark Vaughn connected for back-to-back homers, giving the Marlins a 3-2 lead. Dominick Cammarata followed with a triple, before Michael Druhan struck out for the first out of the inning. Starting with Cole Bedford, the next 11 Marlins hitters reached base, capped off with a three-run shot from Justin Weigle to finish of the scoring for the second.
Bedford knocked a two-run dinger in the following inning to give the Marlins a 17-2 lead.
From the fourth to the seventh, the Steamers slowly chipped away at the Morehead City lead with three runs in the fourth and solo homeruns from Richie Cunningham and Tony Rosselli in the sixth and seventh innings respectively. Edenton made things interesting with a four-run eighth. Shamoy Christopher led off with a walk, moving to second on a Cunningham single. Two batters later, Thatcher Coleman plated a run with a single. Tony Rosselli cracked his second homerun of the night to score three, and bring the score to 17-12.
Morehead City put the final nail in the coffin with a second homerun from Cortina to put the Marlins ahead 19-12.
The Edenton Steamers return to action in Morehead City on Tuesday night, and after an off day on Wednesday, the Clams return to Hicks Field to host the Marlins once again on Thursday. First pitch is set for 7 p.m. For more information, fans can call (252) 482-4080 or visit edentonsteamers.com.
The Coastal Plain League is the nation's premier summer collegiate baseball league. Celebrating its 22nd season in 2018, the CPL features 16 teams playing in Georgia, North Carolina, South Carolina and Virginia. The CPL has had over 1,450 alumni drafted and 109 of those – including 2011 AL MVP and Cy Young winner Justin Verlander – make their Major League debut; while another notable alum – Russell Wilson – won Super Bowl XLVIII. For more information on the Coastal Plain League, please visit the league website at www.coastalplain.com and follow us via Facebook, Twitter, Instagram and Snapchat @CPLBaseball..
Contact:
Chris Lehman
Phone:
(919) 559-6863