Updated July 02 2017
EDENTON, N.C.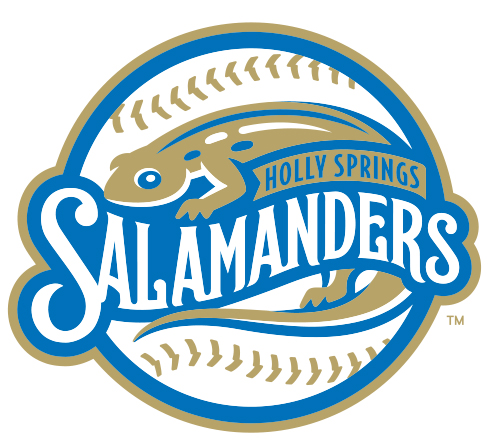 The Holly Springs Salamanders were defeated 11-3 by the Edenton Steamers at Historic Hicks Field on Saturday night.
Holly Springs starting pitcher Chris Rodriguez (Redshirt-Junior, Wright State) surrendered five runs on five hits over four innings. Jake Lewis (Sophomore, UNCG) worked 2.1 innings out of the bullpen, while Mike Mock (Sophomore, Millersville) and Andrew Gnazzo (Freshman, Princeton) also made relief appearances.
The bats for both teams were hot early. Adam Sisk (Junior, James Madison) and Dalton Hoiles (Junior, Shippensburg) hit back-to-back home runs in the top of the first inning to give the Salamanders a 2-0 lead. In the bottom half, Jamie Galazin (Junior, St. John's) hit an RBI single up the middle to pull the Steamers back within one run. After an RBI single by Tripp Shelton (Junior, UNCG) in the top of the second, Edenton's James Battley (Redshirt-Junior, Illinois-Springfield) hit a solo home run of his own in the bottom half that once again cut the Salamanders lead to one.
In the fourth inning, an RBI single for the Steamers by Tristen Carranza (Sophomore, New Mexico State) was followed by a two-run blast from William Robbins (Redshirt-Junior, Francis Marion) that gave Edenton the lead at 5-3, which they would not relinquish. The lead was nearly extended with another solo shot, but a leaping grab by Cory Wood (Freshman, Coastal Carolina), a 2017 CPL All-Star, robbed the would-be home run and ended the inning.
Six runs in the seventh inning, including a fourth solo home run in the game, pushed the Steamers' lead to 11-3. The Salamanders were silenced for the final two innings.
The Salamanders return to Ting Stadium at North Main Athletic Complex on Sunday, July 2nd, for Military Appreciation Night. First pitch is scheduled for 5:40pm.
Contact:
Michael Lisson
Phone:
(919) 249-7322