Updated July 15 2016
WILSON, N.C.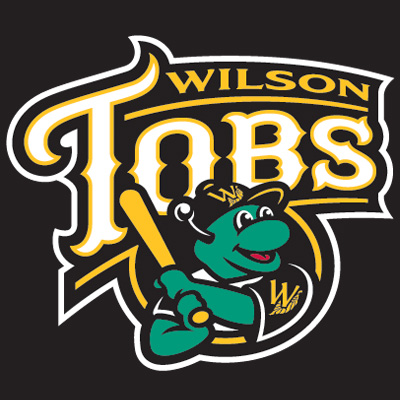 The Tobs were shut down by the Wilmington Sharks by a count of 5-0 in Wilson on Friday night.
A lovely pre-game ceremony and in-game festivities in front of a 700 person crowd honored the military servicemen and women of the US Armed Forces on "Salute the Troops" Night.
However, by the end of the night, the Tobs were left tipping their cap to Sharks starter Connor Riley (South Carolina-Aiken).
By the third inning, Riley had recorded eight strikeouts and a lone double from Chad Frazier (Concord) stood between Riley and a three-inning perfect game.
The Sharks scored the game's first run when former Tob Clark Scolamiero crossed home on a Grant Koch (Arkansas) groundout.
Alex Yarem (Campbell) hurled his own gem though. Time and time again he worked out of a jam and even worked five strikeouts.
However, Riley continually dominated the Tobs offense. He ended his day striking out 16 batters, a single-game CPL high.
As a staff, the Sharks K'd 19 Tobs en route to their win. Wilmington exploded for four runs in the sixth inning after two Tobs throwing errors.
Wilson stranded eight runners in the loss, but did score a bright spot as Logan Baldwin (Georgia Southern) collected stolen bases number 21 and 22.
These two teams match up again tomorrow from the Port City at 7:05 p.m. Wilson returns home on Tuesday, July 19th to face Peninsula on Chick-Fil-A Night.
The Wilson Tobs are proud to announce this upcoming year will be our 20th Anniversary Season within the Coastal Plain League. As an original member of the Coastal Plain League, the modern day Tobs have been lucky enough to celebrate each memorable season with the warm embrace of the Wilson community. We would like to dedicate each successful season to the Wilson Community, Coastal Plain League Organization, Host Families, Sponsors Partners, and the Dedicated Fans throughout the city of Wilson. Due to this tremendous support we have implemented multiple discounts, promotions, and benefits for the Tobs 20th Anniversary to show our appreciation. You can check out what we have in store this summer by clicking this link.
The Coastal Plain League is the nation's premier summer collegiate baseball league. Celebrating its 22nd season in 2018, the CPL features 16 teams playing in Georgia, North Carolina, South Carolina and Virginia. The CPL has had over 1,450 alumni drafted and 109 of those – including 2011 AL MVP and Cy Young winner Justin Verlander – make their Major League debut; while another notable alum – Russell Wilson – won Super Bowl XLVIII. For more information on the Coastal Plain League, please visit the league website at www.coastalplain.com and follow us via Facebook, Twitter, Instagram and Snapchat @CPLBaseball..
Contact:
Drew Blevins
Phone:
(919) 818-1396