Updated March 07 2017
FLORENCE, S.C.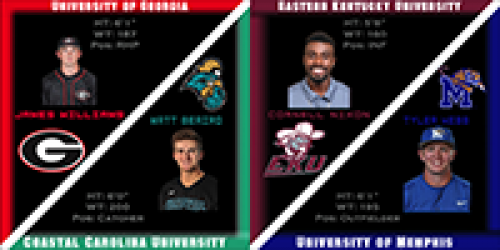 The Florence RedWolves have announced the addition of Georgia Bulldog James Williams, Eastern Kentucky Colonel Cornell Nixon, Coastal Carolina Chanticleer Matt Beaird and Memphis Tiger Tyler Webb.
James Williams is a freshman out of the University of Georgia and is enjoying his first season in Athens. The Kennesaw, Georgia native stands in at 6-1, 187 and is a right-handed stature on the mound. Williams played at Harrison High School where he was named a 2016 Rawlings / Perfect Game Honorable Mention All- American, along with being named an All-Region pitcher and catcher.
"James is a freshman for Georgia that should see some action this spring," said head coach Travis Graves. "He will be a nice addition to our pitching staff and can throw three pitches for strikes."
As of Tuesday, March 7th, Williams has appeared in one game on the rubber with the Bulldogs, pitching one inning giving up a run (earned) on two hits, a walk and two strikeouts.
Teaming up with Williams will be Eastern Kentucky's Cornell Nixon. Nixon is a Redshirt-junior in his second season with the Colonels. Before sitting out his 2016 season, Nixon was a member of the Kennesaw State University baseball team. In two seasons, the 5-8, 160 infielder played 67 games posting a .220 batting average and stole 9-of-9 bases his sophomore year.
"Cornell is a middle infielder, but primarily a second baseman who has good hands and lots of range," Graves stated. "He is an everyday player for Eastern Kentucky and will be a top of the order guy for us. He has good speed and has gap-to-gap power as well."
Nixon is a Marietta, Georgia native that has started in all 12 games for the Colonels. The right-handed batter (as of 3/7) holds a .318 / .446 / .364 slash line, with 14 hits, 13 runs, 9 walks, 5 RBI, and 7-for-9 on stolen bases.
Three Times the Charm. As if acquiring two 2016 National Championship players wasn't enough, head coach Travis Graves snared yet another champion from the Coastal Carolina Chanticleers. Matt Beaird will make his way up to Florence to sport the Red and Black this summer. Beaird, a Johnson City, Tennessee native is a 6-0, 200 catcher in his junior season with Coastal. Last season the touted battery mate played in 59 games with 46 starts. Beaird posted a .208 batting average for the season, but gave himself up with sacrifice bunts consistently. Twelve times to be exact, with 11 of the runners he advanced scoring.
"Matt is the starting catcher for Coastal Carolina and is a very good defensive catcher," Graves mentioned. "He will help control the pitching staff, stop the running game and contribute offensively as well."
As of March 7th, Beaird has played in all 14 of the Chanticleers' games and started 10. The backstop holds a .250 batting average accompanied by a .421 OBP while scoring 6 runs on 7 hits and 3 RBI.
The fourth member of the crew making Florence his summer home will be Tyler Webb. Webb is a 6-1, 195 junior with the University of Memphis. Out of Prosper, Texas, Webb began his collegiate career at Galveston College, a member of the NJCAA. As an outfielder, Webb was named a third team All-American and led the Whitecaps in batting average (.426), OBP (.509), hits (83), doubles (15), and stolen bases (15).
With the Tigers (as of 3/7), Webb has started in eight games collecting nine hits, four runs, three RBI and two doubles. "Tyler is a center fielder for Memphis and was a JUCO All-American last year," said the RedWolves' Skipper. "He's hitting in the middle of the Memphis lineup and will be a great addition to our ball club. He has good range in center field and can provide some power to the middle of our lineup."
The Florence RedWolves get their 2017 campaign underway May 30th, traveling to take on the Wilmington Sharks before returning home the following night, Wednesday, May 31st, to battle the Lexington County Blowfish. It will be our Home Opening Night and Magnet Schedule Giveaway, where the first 750 fans will receive a RedWolves magnet schedule courtesy of Carolina's Hospital Systems.
Single Game Tickets, Ticket Packages, and Group Outings are Available NOW!
www.florenceredwolves.com | 843-629-0700
HOST FAMILIES
Host families are a crucial, much-appreciated part of RedWolves baseball. Each summer, local families open their homes to our players and their generosity has helped us make the RedWolves a part of the Florence community for 18 years. Being a host family is a great opportunity for your family to connect with a college player while being part of the larger RedWolves family.
Host families provide room and board for a college player from the end of May through mid-August each year. All RedWolves players are student-athletes and are not paid to play in the Coastal Plain League. They come to Florence to further develop their skills and to catch the eyes of professional league scouts.
Being a host family can be very rewarding. For one, becoming a host family will earn you
FREE SEASON TICKETS and a chance to WIN $10,000!!!
If you are interested in becoming a host family with the RedWolves, please e-mail Barbara, Barbara@florenceredwolves.com, or call the RedWolves' office at 843-629-0700 and we will answer any questions you may have!
RedWolves Announce 2017 Summer Kids Baseball Camp Dates
The Florence RedWolves are pleased to announce the 2017 Summer Kids Baseball Camp dates have been released. Camp will be held from Monday, June 19th, through Thursday, June 22nd, 2017.
Each day of camp will run from 9:00am - 12:30pm, and the cost is $85.00 per player. Campers will need to bring their glove, bat, cleats, and a water bottle. Drinks will be readily available for $1 and water will be present while camp is in session.
With a new coaching staff and new players for the 2017 season, kids ages 6-15 will have a unique opportunity to practice and learn from todays college baseball stars and their championship winning coaches.
The 2017 Summer Kids Baseball Camp will be conducted at Sparrow Stadium on the campus of Francis Marion University, in conjunction with McLeod Sports Medicine. Campers should come dressed appropriately, well rested, hydrated and ready for great instruction.
RedWolves General Manager Barbara Osborne said, "I'm excited for another year of Kids Baseball Camp. It really gives a great learning environment that is a grand slam of fun for the kids."
Campers will be conducting drills on field, in the bullpens and in the batting cages practicing like the big guys do. "When the kids come off the field they feel like All-Stars. The RedWolves take great pride in that," Osborne stated.
2017 Kids Baseball Camp waiver forms can be found by visiting Florenceredwolves.com under the 'Schedule' tab, listed as 2017 Kids Camp. Payment must be sent with form, with checks made out to the Florence RedWolves Baseball, RedWolves Baseball PO Box 809 Florence, SC 29503.
—RedWolves—
The Coastal Plain League is the nation's premier summer collegiate baseball league. Celebrating its 22nd season in 2018, the CPL features 16 teams playing in Georgia, North Carolina, South Carolina and Virginia. The CPL has had over 1,450 alumni drafted and 109 of those – including 2011 AL MVP and Cy Young winner Justin Verlander – make their Major League debut; while another notable alum – Russell Wilson – won Super Bowl XLVIII. For more information on the Coastal Plain League, please visit the league website at www.coastalplain.com and follow us via Facebook, Twitter, Instagram and Snapchat @CPLBaseball..
Contact:
Audie Wise
Phone:
843-629-0700