Updated November 07 2016
FLORENCE, S.C.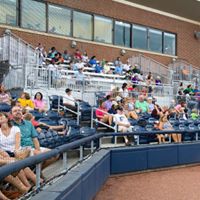 On November 4, 2016 Stadium Journey released its rankings of the 22 best summer collegiate baseball league ballparks for the 2016 season. The Florence RedWolves saw themselves placed in the top three teams on the list, ranking third.
Stadium Journey takes several ballpark aesthetics into account with ranking teams. Most importantly rankings are bested on a fanfare scale with the inclusion of food and beverages, stadium gameday atmosphere, community around the ballpark, fans, accessibility, additionally, as Stadium Journey likes to call them, "unique extras."
On being ranked third out of 22 teams, RedWolves General Manager Barbara Osborne said, "It is an honor to be recognized by Stadium Journey as the Florence RedWolves are one of the top three summer collegiate ballparks in the nation."
Along with Florence, four other Coastal Plain League teams have been ranked as well. Newly added to the CPL, the Savannah Bananas were atop the rankings, followed secondly by the Gastonia Grizzlies. The Peninsula Pilots flew in at number sixteen and the Wilson Tobs sprouted in nineteenth.
"To have five Coastal Plain League teams among the top 22 baseball atmospheres in the nation is truly amazing," said Osborne with an added laugh, "We've known it all along. It is nice to see that others are starting to notice."
To read the full Stadium Journey article, click here: http://www.scout.com/stadium-journey/story/1724427-2016-collegiate-wood-bat-ballpark-rankings
The 2017 Coastal Plain League season is set to begin Tuesday May 30th, as the Florence RedWolves will travel to take on the Wilmington Sharks at 7:00pm.
The Coastal Plain League is the nation's premier summer collegiate baseball league. Celebrating its 22nd season in 2018, the CPL features 16 teams playing in Georgia, North Carolina, South Carolina and Virginia. The CPL has had over 1,450 alumni drafted and 109 of those – including 2011 AL MVP and Cy Young winner Justin Verlander – make their Major League debut; while another notable alum – Russell Wilson – won Super Bowl XLVIII. For more information on the Coastal Plain League, please visit the league website at www.coastalplain.com and follow us via Facebook, Twitter, Instagram and Snapchat @CPLBaseball..
Contact:
Audie Wise
Phone:
(843) 629-0700