Updated July 09 2016
HAMPTON, VA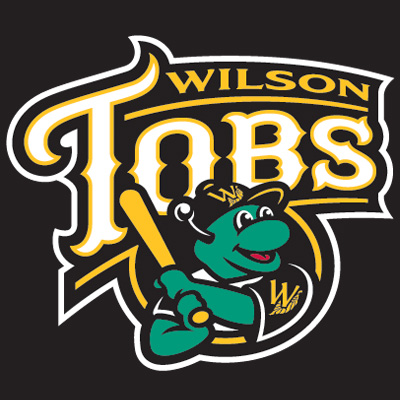 The Tobs faced a scrappy Peninsula team at War Memorial Stadium in the final game before the all-star break and despite a late rally, fell 5-4.
The game began with Nick Walker (Old Dominion) and Logan Augustine (Lincoln Memorial) scoring via a Will Sheperd (Liberty) two-RBI single.
However, the Tobs would settle defensively. Jake Lewis (UNC-Greensboro) would strike out three in 5.1 innings of work.
Conner Leonard (Appalachian State) rocked a three run bomb in the sixth inning to give Wilson to lead at 3-2. However, the Tobs ceded two in the bottom of the inning to trail 4-3.
In the eighth, the Pilots added an insurance marker to take a 5-3 lead.
In the ninth, Jimmy Latona (Mercyhurst) singled in a run, leaving Justin Dattilo (UNC-Pembroke) on third. However, the rally ended with a groundout, sealing the Peninsula win, 5-4.
Wilson heads into the All-Star Game with a 16-17 record, holding a half-game lead over Edenton for the final playoff spot.
Tomorrow, Cameron Balego (Mercyhurst) will represent the Tobs in the Home Run Derby. On Monday, the Tobs send Balego, Latona, Lewis, and CJ Ballard (Georgia Southern) out to face the best of the West in the 2016 CPL All-Star Game.
The Tobs are back at home on Wednesday to face the Lexington County Blowfish at 7:00 p.m. on Wilson Chamber of Commerce Night.
The Wilson Tobs are proud to announce this upcoming year will be our 20th Anniversary Season within the Coastal Plain League. As an original member of the Coastal Plain League, the modern day Tobs have been lucky enough to celebrate each memorable season with the warm embrace of the Wilson community. We would like to dedicate each successful season to the Wilson Community, Coastal Plain League Organization, Host Families, Sponsors Partners, and the Dedicated Fans throughout the city of Wilson. Due to this tremendous support we have implemented multiple discounts, promotions, and benefits for the Tobs 20th Anniversary to show our appreciation. You can check out what we have in store this summer by clicking this link.
The Coastal Plain League is the nation's premier summer collegiate baseball league. Celebrating its 22nd season in 2018, the CPL features 16 teams playing in Georgia, North Carolina, South Carolina and Virginia. The CPL has had over 1,450 alumni drafted and 109 of those – including 2011 AL MVP and Cy Young winner Justin Verlander – make their Major League debut; while another notable alum – Russell Wilson – won Super Bowl XLVIII. For more information on the Coastal Plain League, please visit the league website at www.coastalplain.com and follow us via Facebook, Twitter, Instagram and Snapchat @CPLBaseball..
Contact:
Drew Blevins
Phone:
(919) 818-1396