Updated July 03 2016
FAYETTEVILLE, N.C.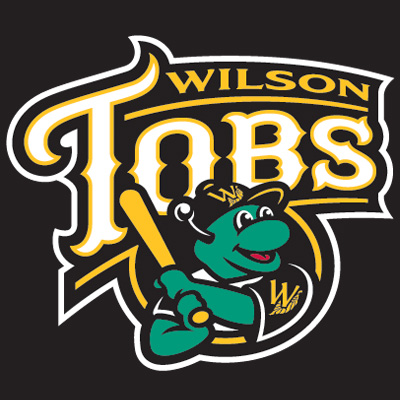 The Tobs opened up the first half of the season with a win over Fayetteville at J.P. Riddle Stadium 5-3 on Sunday.
A packed house of almost 4,000 watched from the stands and the beer garden as Fayetteville took an early.
After an unproductive first inning, a roller to second base was booted and Dan Neff reached. Neff would later steal second and advance on a throwing error before coming in to score.
Quickly, Wilson answered when Logan Baldwin plated two on a two-out double.
In the third, Conner Leonard smacked his third home run making it 3-1 Tobs.
Meanwhile, on the mount, Travis Holden pitched a gem. In eight innings of work, the Appalachian State product allowed only four hits and only two earned runs.
Baldwin again came in clutch in the fourth inning with an RBI to score Austin Fisher.
Fisher would score his second run of the game in the sixth to give Wilson the lead.
Holden held down Fayetteville until the bottom of the ninth inning when a pair of knocks chased the Tobs starter.
Zack Mozingo allowed one hit that loaded the bases and then plunked a batter to make the score 5-2.
Logan Corrigan pinch hit for the SwampDogs and added another Dog run via sac fly. Mozingo then balked to put the tying run in scoring position.
In a full count, Mozingo got David Summerfield to hit back up the middle, but a solid play from Austin Fisher at second retired Summerfield at first and earned a Tobs win.
Travis Holden adds another win to his resume while the Tobs improve to 15-13 on the year. Meanwhile, Mike Austin falls to 2-3 and the SwampDogs start off the second half 0-1.
Wilson next faces first-half champ Peninsula tomorrow at Fleming Stadium. The Tobs will also have their Fireworks Extravaganza tomorrow night, we hope to see you at Fleming Stadium.
The Wilson Tobs are proud to announce this upcoming year will be our 20th Anniversary Season within the Coastal Plain League. As an original member of the Coastal Plain League, the modern day Tobs have been lucky enough to celebrate each memorable season with the warm embrace of the Wilson community. We would like to dedicate each successful season to the Wilson Community, Coastal Plain League Organization, Host Families, Sponsors Partners, and the Dedicated Fans throughout the city of Wilson. Due to this tremendous support we have implemented multiple discounts, promotions, and benefits for the Tobs 20th Anniversary to show our appreciation. You can check out what we have in store this summer by clicking this link.
The Coastal Plain League is the nation's premier summer collegiate baseball league. Celebrating its 22nd season in 2018, the CPL features 16 teams playing in Georgia, North Carolina, South Carolina and Virginia. The CPL has had over 1,450 alumni drafted and 109 of those – including 2011 AL MVP and Cy Young winner Justin Verlander – make their Major League debut; while another notable alum – Russell Wilson – won Super Bowl XLVIII. For more information on the Coastal Plain League, please visit the league website at www.coastalplain.com and follow us via Facebook, Twitter, Instagram and Snapchat @CPLBaseball..
Contact:
Drew Blevins
Phone:
(252) 291-8627