Updated July 14 2016
EDENTON, N.C.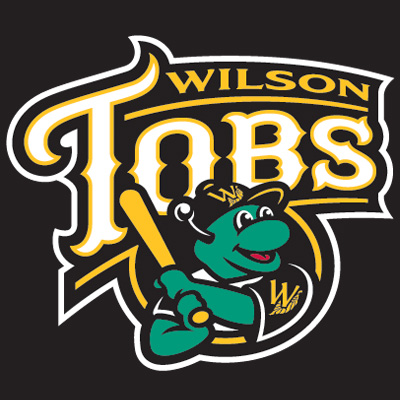 The Wilson Tobs fell 4-1 to the Edenton Steamers on Thursday night at Historic Hicks Field.
In front of Edenton's capacity crowd, the Tobs eight hits produced a lonely run.
Wilson took the lead on an Austin Fisher (Santa Clara) RBI groundout that scored Andrew Webster (Barton).
Dillon DeBlieux (LSU-Alexandria) pitched 4.2 innings with four strikeouts and only one hit, but that one hit determined the game.
After DeBlieux hit a batter and walked two to load the bases, Trey Hair blasted a grand slam to centerfield. The high bomb landed just over the centerfield wall at 355 feet.
Wilson was not able to come back from the four-bagger as they faltered down the stretch.
The Tobs stranded 10 runners for the eleventh time this season, six of whom were in scoring position.
Wilson comes back home a game under .500 to face the Wilmington Sharks on Salute the Troops Night. All retired veterans get in free and all active service members receive $3 tickets.
Gates open at 6:00 p.m. with an R.A. Jeffrey's Live! Band with first pitch at 7:00 p.m.
The Wilson Tobs are proud to announce this upcoming year will be our 20th Anniversary Season within the Coastal Plain League. As an original member of the Coastal Plain League, the modern day Tobs have been lucky enough to celebrate each memorable season with the warm embrace of the Wilson community. We would like to dedicate each successful season to the Wilson Community, Coastal Plain League Organization, Host Families, Sponsors Partners, and the Dedicated Fans throughout the city of Wilson. Due to this tremendous support we have implemented multiple discounts, promotions, and benefits for the Tobs 20th Anniversary to show our appreciation. You can check out what we have in store this summer by clicking this link.
The Coastal Plain League is the nation's premier summer collegiate baseball league. Celebrating its 22nd season in 2018, the CPL features 16 teams playing in Georgia, North Carolina, South Carolina and Virginia. The CPL has had over 1,450 alumni drafted and 109 of those – including 2011 AL MVP and Cy Young winner Justin Verlander – make their Major League debut; while another notable alum – Russell Wilson – won Super Bowl XLVIII. For more information on the Coastal Plain League, please visit the league website at www.coastalplain.com and follow us via Facebook, Twitter, Instagram and Snapchat @CPLBaseball..
Contact:
Drew Blevins
Phone:
(919) 818-1396