Updated July 16 2016
PETERSBURG, VA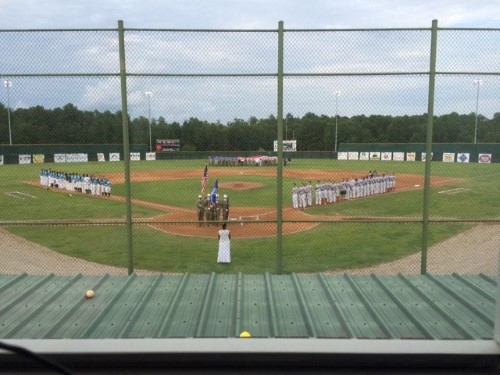 The final score after 5 innings was 4-1 on Saturday night in favor of the Petersburg Generals.
In front of a packed audience full of active military, reservist, retired military and veterans the Generals picked up the win on Military Appreciation Night over the visiting Morehead City Marlins. The game was shortened due to rain, being called after five complete innings.
Generals starter Hunter Peck (1-4) picked up the win, after giving up one earned run over five innings pitched. Marlins right-hander Wyatt Hamilton (1-2) was pulled from the game after giving up four runs in the bottom of the fourth.
Marlins third baseman Mark Vaughn drove home the lone run for Morehead City, with a RBI single in the top of the second to put them on the board first.
Generals outfielder Babe Thomas drove in the Generals first run, scoring Sammy Miller. Adam Bauer also came across the plate after an error in centerfield by the Marlins Tyler Weyenburg. Generals catcher Cody Doyle also got in on the action driving home a run with an opposite field single scoring Chandler Corely, the fourth run on the inning. After two successful defense plays by the Marlins the inning was finally over.
The Generals will be back in action to finish off their weekend home stand against the Wilmington Sharks on a Sunday afternoon matinee. First pitch is slated for 4:05 pm, gates open at 3:00pm.
For additional information, please call 804-733-2394 or 804-722-0141 or visit us on the web at
www.petersburggenerals.com.
The Coastal Plain League is the nation's premier summer collegiate baseball league. Celebrating its 22nd season in 2018, the CPL features 16 teams playing in Georgia, North Carolina, South Carolina and Virginia. The CPL has had over 1,450 alumni drafted and 109 of those – including 2011 AL MVP and Cy Young winner Justin Verlander – make their Major League debut; while another notable alum – Russell Wilson – won Super Bowl XLVIII. For more information on the Coastal Plain League, please visit the league website at www.coastalplain.com and follow us via Facebook, Twitter, Instagram and Snapchat @CPLBaseball..
Contact:
Derrick Sydnor
Phone:
804-722-0141