Updated August 04 2016
HOLLY SPRINGS, N.C.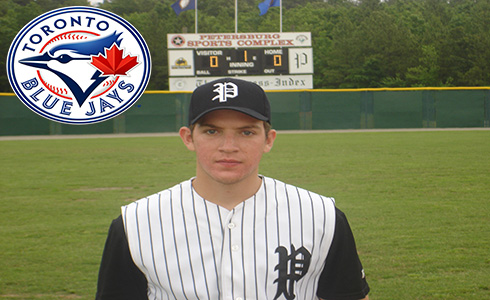 Former Petersburg General Danny Barnes made his major league debut August 2 for the Toronto Blue Jays. The right-hander allowed only one hit and no runs while striking out two over one inning in the Blue Jays 2-1 victory over the Houston Astros.
Barnes was a drafted by the Blue Jays in the 34th round of the 2010 MLB Draft out of Princeton, making him only the sixth player all-time to make the majors from Princeton. He has spent the last six-and-a-half seasons working his way up through the Blue Jays minor league system accumulating an impressive career 2.45 ERA with 62 saves and 406 strikeouts over 312 1/3 innings pitched for a strikeout per nine inning rate of 11.69.
With a heavily-taxed bullpen, the Blue Jays called up Barnes and wasted no time throwing him into the mix as he was asked to protect a one-run lead late in the game on Tuesday versus the Astros. Not only did he not give up any runs and helped the Blue Jays get the victory, Barnes struck out two of the most talked about young players in the game right now in Carlos Correa and Alex Bregman in the process.
During his time in the Coastal Plain League in 2008, Barnes was the Generals ace racking up a 5-1 record with a 3.03 ERA and 59 strikeouts over 59 1/3 innings pitched. He marks the 89th overall former CPL player to make his major league debut, and the eighth so far this season. His debut also pushed the Generals' major league alumni total to four.
The Coastal Plain League is the nation's premier summer collegiate baseball league. Celebrating its 20th season in 2016, the CPL features 16 teams playing in Georgia, North Carolina, South Carolina and Virginia. The CPL has had nearly 1,300 alumni drafted and 89 of those – including 2011 AL MVP and Cy Young winner Justin Verlander – make their Major League debut; while another notable alum – Russell Wilson – won Super Bowl XLVIII. For more information on the Coastal Plain League, please visit the league website at www.coastalplain.com and follow us via Twitter @CPLBaseball.
Contact:
Shelby Hilliard
Phone:
919-576-4049