Updated September 07 2016
HOLLY SPRINGS, N.C.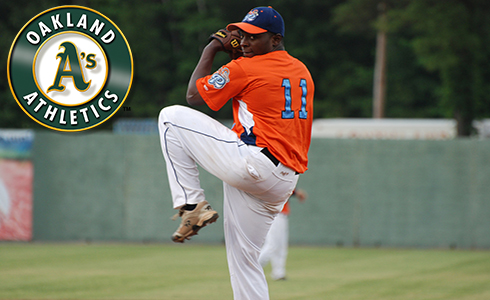 Former Peninsula Pilot Jharel Cotton made his major league debut September 7 for the Oakland Athletics in sensational fashion helping the A's to a 4-1 win over division rival the Los Angeles Angels. Earning the start, Cotton took the win pitching 6 1/3 innings while allowing only two hits and one run while striking out three.
Cotton was drafted out of East Carolina in the 20th round of the 2012 MLB Draft by the Los Angeles Dodgers. He slowly built into one of the Dodgers top prospects, and one of the top pitching prospects in all of baseball earning a spot in the prestigious 2016 MLB Futures Game where finished as the winning pitcher. Later in the season he was traded to the Oakland Athletics as a part of a deal that sent Josh Reddick and Rich Hill to the Dodgers.
Once arriving to the Athletics organization the young starter only got better producing a 2.82 ERA over six starts and 38 1/3 innings pitched for Oakland's AAA affiliate out of Nashville before his call-up.
The Virgin Islands native played his high school ball in Newport News, Virginia before spending time playing at both Miami Dade and East Carolina. During this time he played for the Peninsula Pilots in 2010 and 2012 where he accumulated a 3-2 record with a 2.54 ERA and 75 strikeouts over 45 2/3 innings pitched for a .195 opponent's batting average.
"Playing in the CPL was great, I remember my first year like it was yesterday in 2010," said Cotton. "Great things happened, I loved playing for the Pilots and their coaching staff. They have helped me a lot and if it wasn't for the Pilots and the Coastal Plain League, I probably wouldn't be where I am at today."
Cotton became the 92nd former CPL player to make their major league debut and the eleventh already this season. His debut also pushes the Pilots major league alumni total to nine.
The Coastal Plain League is the nation's premier summer collegiate baseball league. Celebrating its 20th season in 2016, the CPL features 16 teams playing in Georgia, North Carolina, South Carolina and Virginia. The CPL has had nearly 1,300 alumni drafted and 92 of those – including 2011 AL MVP and Cy Young winner Justin Verlander – make their Major League debut; while another notable alum – Russell Wilson – won Super Bowl XLVIII. For more information on the Coastal Plain League, please visit the league website at www.coastalplain.com, like us on Facebook at Coastal Plain League and follow us via Twitter and Instagram @CPLBaseball.
Contact:
Shelby Hilliard
Phone:
919-852-1960