Updated August 22 2016
HOLLY SPRINGS, N.C.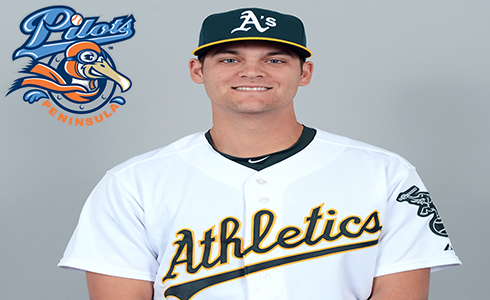 Former Peninsula Pilot Chad Pinder made his major league debut getting the start at second base August 20 for the Oakland Athletics. Pinder went 0-4 in his debut, facing one of the league's best in Chris Sale of the White Sox as the Athletics fell 6-2.
The Virginia native was a star at Virginia Tech before becoming the school's seventh highest draft pick all-time going in the second round, 71st overall, of the 2013 MLB Draft to Oakland. During his time as a Hokie, Pinder batted .322 with 38 doubles, 18 home runs, 101 RBIs and 106 runs scored, notching First-Team ACC honors during the 2013 campaign before being drafted.
This success was continued at the minor league level where Pinder produced a solid .280 batting average over three and a half seasons, to go along with 91 doubles, 45 home runs, 10 triples, 200 RBIs and 218 runs scored. It was Pinder's proven track record of scoring runs that continued to shine in 2016 at the Triple-A level where he was in the top 10 of all players with 72 runs scored in 102 games played before being called up by the Athletics.
Ponder spent the 2011 summer in the Coastal Plain League with the Peninsula Pilots, posting a .263 batting average with three doubles, three triples, one home run and 20 runs scored across 23 games played for the Pilots. He marks the 90th overall former CPL player to make his major league debut, and the ninth so far this season. His debut also pushed the Pilots' major league alumni total to eight.
The Coastal Plain League is the nation's premier summer collegiate baseball league. Celebrating its 20th season in 2016, the CPL features 16 teams playing in Georgia, North Carolina, South Carolina and Virginia. The CPL has had nearly 1,300 alumni drafted and 90 of those – including 2011 AL MVP and Cy Young winner Justin Verlander – make their Major League debut; while another notable alum – Russell Wilson – won Super Bowl XLVIII. For more information on the Coastal Plain League, please visit the league website at www.coastalplain.com and follow us via Twitter @CPLBaseball.
Contact:
Shelby Hilliard
Phone:
919-852-1960