Updated September 12 2016
HOLLY SPRINGS, N.C.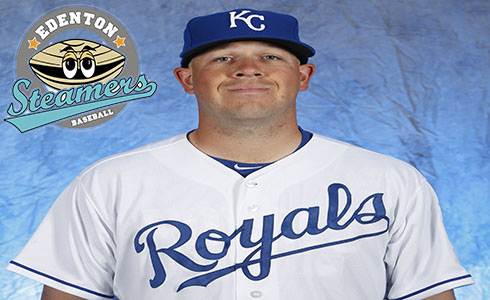 Former Edenton Steamer Kevin McCarthy made his major league debut September 9 for the Kansas City Royals. The right-hander came on in relief in the eight inning to retire Tim Anderson of the Chicago White Sox as the Royals fell 7-2.
McCarthy made history for his alma mater Marist becoming the first Red Fox to make his major league debut. He was a star at the University, with his best year coming in 2013 when he earned Co-Pitcher of the Year in the Metro-Atlantic Athletic Conference. Following this season, the junior was drafted by the Royals in the 16th round of the 2013 MLB Draft.
The New York native has been consistently productive across his four minor league seasons accumulating a 2.95 ERA across 91 appearances and 176 2/3 innings in the Royals system. He found his niche in 2016 working some out of the closer role across both the AA and AAA levels where he held a combined 3.04 ERA with 16 saves and 59 strikeouts over 47 appearances and 68 innings pitched at the time of his call-up.
McCarthy spent the 2012 summer playing for the CPL's Edenton Steamers were he notched a 3.44 ERA over nine starts and 52 1/3 innings pitched to go along with a .223 opponent's batting average. He marks the 94th overall former CPL player to make his major league debut, and the thirteenth so far this season. His debut also pushed the Steamers major league alumni total to twelve.
The Coastal Plain League is the nation's premier summer collegiate baseball league. Celebrating its 20th season in 2016, the CPL features 16 teams playing in Georgia, North Carolina, South Carolina and Virginia. The CPL has had nearly 1,300 alumni drafted and 94 of those – including 2011 AL MVP and Cy Young winner Justin Verlander – make their Major League debut; while another notable alum – Russell Wilson – won Super Bowl XLVIII. For more information on the Coastal Plain League, please visit the league website at www.coastalplain.com, like us on Facebook at Coastal Plain League and follow us via Twitter and Instagram @CPLBaseball.
Contact:
Shelby Hilliard
Phone:
919-852-1960