Updated September 02 2016
HOLLY SPRINGS, N.C.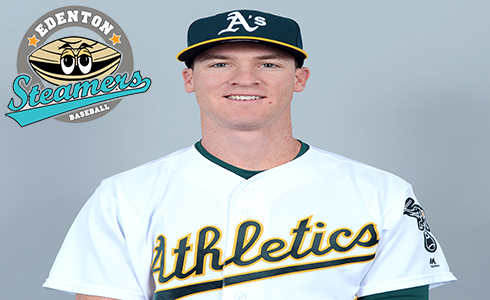 Former Edenton Steamer Joey Wendle made his major league debut August 31 for the Oakland Athletics. He earned the start at second base and while he finished hitless in four at-bats, Wendle scored a run after reaching base on a fielder's choice in the Athletics 4-3 loss to the Houston Astros.
Wendle starred at West Chester University where he eventually ended his career with a spot on Baseball America's top 10 prospects in all of Division-II baseball. Following his senior year in 2012 he was drafted by the Cleveland Indians in the sixth round of the MLB Draft before making his way to Oakland via trade before the start of the 2015 season.
Overall the 6-1 infielder held a .288 career minor league batting average before his callup with 141 doubles, 32 triples and 50 home runs to go along with 273 RBIs and 45 stolen bases. He was brought up by Oakland after the team sent Coco Crisp to Cleveland in a trade, opening up a spot on the roster for the young prospect. Wendle earned the spot with a successful AAA season hitting .279 with 31 doubles, nine triples, 12 home runs, 61 RBIs and 14 stolen bases.
During his time in the Coastal Plain League, Wendle starred for Edenton's 2011 squad batting a team-leading .377 in 53 games played with 12 doubles, two triples, four home runs and 39 RBIs. He finished that season as one of the league's top hitters leading the league in runs scored (46) and hits (81) on his way to All-Star and All-CPL team selections. Wendle marks the 91st overall former CPL player to make his major league debut, and the tenth so far this season. His debut also pushed the Steamers major league alumni total to eleven.
The Coastal Plain League is the nation's premier summer collegiate baseball league. Celebrating its 20th season in 2016, the CPL features 16 teams playing in Georgia, North Carolina, South Carolina and Virginia. The CPL has had nearly 1,300 alumni drafted and 91 of those – including 2011 AL MVP and Cy Young winner Justin Verlander – make their Major League debut; while another notable alum – Russell Wilson – won Super Bowl XLVIII. For more information on the Coastal Plain League, please visit the league website at www.coastalplain.com, like us on Facebook at Coastal Plain Leagye and follow us via Twitter and Instagram @CPLBaseball.
Contact:
Shelby Hilliard
Phone:
919-852-1960