Updated July 13 2016
WILSON, N.C.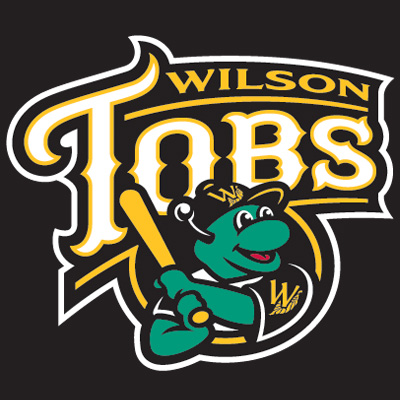 The Tobs came back from the all-star break refreshed and invigorated and it showed in a 15-3 drubbing of the Lexington County Blowfish on Wednesday.
A moderate crowd of over 700 filled Fleming Stadium and saw a fireworks show of offense.
Logan Baldwin (Georgia Southern) scored the game's first run after a Cam Balego (Mercyhurst) RBI-single. Andrew Webster would homer in the inning to give the Tobs a 3-0 lead.
The Blowfish would push one across, but the Tobs evened the damage when Baldwin knocked in Greg Jones (Carson-Newman). Wilson burst the game open in the fourth with a two-run dinger from Baldwin.
Sam Brooks (Bethune-Cookman) would score the remaining two runs in the game for the Blowfish, but it was far too little to damper the Tobs offense.
Wilson plated three on a Tyler Howsley home run blast in the eighth inning to seal off everything.
Seven of the Tobs nine players score two runs or more. Eight of the nine Tobs players had hits to make up 19 as a team.
Jeff Thompson (Belmont Abbey) threw a two-hit gem through five innings to improve to 2-3. He also accrued an additional six strikeouts.
Tyler Norris (Bethune-Cookman) falls to 1-2 after the loss.
The Tobs are in Edenton tomorrow to fight to keep their fourth place seed. Wilson returns home on the 15th of July to face Wilmington on "Salute the Troops" Night.
The Wilson Tobs are proud to announce this upcoming year will be our 20th Anniversary Season within the Coastal Plain League. As an original member of the Coastal Plain League, the modern day Tobs have been lucky enough to celebrate each memorable season with the warm embrace of the Wilson community. We would like to dedicate each successful season to the Wilson Community, Coastal Plain League Organization, Host Families, Sponsors Partners, and the Dedicated Fans throughout the city of Wilson. Due to this tremendous support we have implemented multiple discounts, promotions, and benefits for the Tobs 20th Anniversary to show our appreciation. You can check out what we have in store this summer by clicking this link.
The Coastal Plain League is the nation's premier summer collegiate baseball league. Celebrating its 22nd season in 2018, the CPL features 16 teams playing in Georgia, North Carolina, South Carolina and Virginia. The CPL has had over 1,450 alumni drafted and 109 of those – including 2011 AL MVP and Cy Young winner Justin Verlander – make their Major League debut; while another notable alum – Russell Wilson – won Super Bowl XLVIII. For more information on the Coastal Plain League, please visit the league website at www.coastalplain.com and follow us via Facebook, Twitter, Instagram and Snapchat @CPLBaseball..
Contact:
Drew Blevins
Phone:
(919) 818-1396