Updated May 30 2017
ASHEBORO, N.C.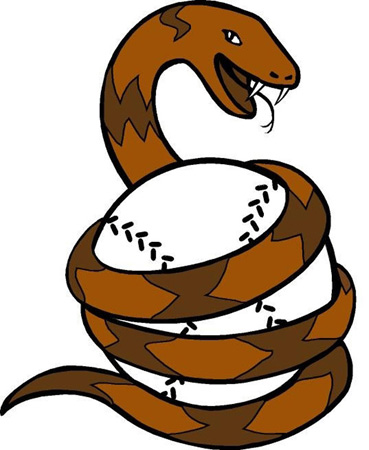 Asheboro squandered a five-run lead, but rallied on the strength of a seventh-inning grand slam off the bat of catcher Vito Friscia and escaped with a 9-6 victory over the Martinsville Mustangs to open the CPL season with a win for the home fans at McCrary Park.
The Copperheads built a 5-0 lead early in the game and appeared in command before the Mustangs blasted three home runs in the middle innings to take a 6-5 lead. However, the Snakes fought back and loaded the sacks in the last of the seventh to set the stage for Friscia's towering grand slam over the right field fence.
Relievers Leon Hunter and Bryan Blanton came on to pitch the eighth and the ninth to preserve the win for the Copperheads. Blanton struck out two of the three batters he faced in the ninth to earn a save. The win went to reliever Patrick Morton, who worked the seventh inning and gave up a three-run homer to Martinsville first baseman Zach Michalski that put the Miustangs on top 6-5. Emilio Abreu and Davis Sims also homered for the visitors, who were blanked over the first four innings by Asheboro starter Devin Sweet of North Carolina Central. Sweet wound up going six innings and gave up three runs and four hits, striking out eight and walking two.
While Friscia (Hofstra) had the game's biggest hit, the Copperheads also got some clutch hitting from several others. Second baseman Derek Perry of Pfeiffer had a home run, plus two others hits and drove in four runs. Centerfielder Kyle Smith of Catawba and DH Teddy Cillis of Hofstra both had a pair of hits and scored three times. First baseman Harry Montero of Bloomfield College also had a couple of hits. In addition ot his slam, Friscia had a sacrifice fly to finish with five RBIs.
Reliever Issac Hale took the loss for the Mustangs, although it was Mike Stephens who gave up the grand slam to Friscia, the first batter he faced in the seventh.
Asheboro pitching struck out 11 Mustangs, but got in hot water by issuing six base on balls.
The Copperheads will travel to Thomasville Wednesday night to take on the Hi-Toms, while Martinsville will play their home openers against Gastonia.
The Coastal Plain League is the nation's premier summer collegiate baseball league. Celebrating its 22nd season in 2018, the CPL features 16 teams playing in Georgia, North Carolina, South Carolina and Virginia. The CPL has had over 1,450 alumni drafted and 109 of those – including 2011 AL MVP and Cy Young winner Justin Verlander – make their Major League debut; while another notable alum – Russell Wilson – won Super Bowl XLVIII. For more information on the Coastal Plain League, please visit the league website at www.coastalplain.com and follow us via Facebook, Twitter, Instagram and Snapchat @CPLBaseball..
Contact:
David Camp
Phone:
(336) 460-7018