Updated July 13 2017
MARTINSVILLE, VA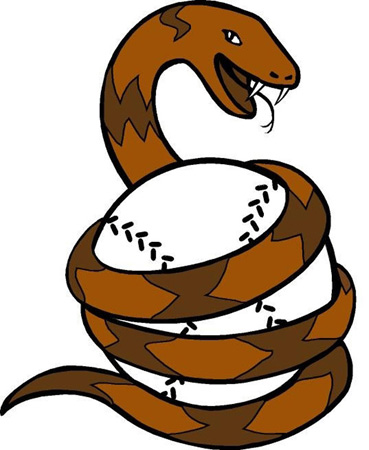 Asheboro finally got some offense and lefty John Alan Kendrick (Penn) turned in his best outing of the season as the Copperheads beat the Martinsville Mustangs 7-3 on the road Thursday night.
The Copperheads had suffered shutout losses in their previous two games and had six scoreless innings to end another, but finally got some good situational hitting and used a long ball later in the game by all-star Clark Brinkman (Creighton) to break the game open.
Kendrick earned his second victory of the summer by going 6 1/3 innings, allowing three runs, eight hits, striking out 11 and walking two. Relievers Mason Fox (Gardner-Webb) and Hunter Smith (Memphis) finished it off by striking out four more Mustangs – making it 15 total Ks on the night.
The win improved Asheboro to 3-4 in the second half and 14-21 overall. Martinsville is now 1-7, 15-20.
The Mustangs scored first, scratching out a run in the second for a 1-0 lead. But the Copperheads took the lead and broke a 26-inning scoreless drought by scoring three times in the third inning. DH Vito Friscia (Hofstra) doubled in the first two and Caleb Webster (UNC Greensboro) followed with another double that made it 3-0.
Asheboro added another run in the sixth on a couple of singles and a wild pitch, but then got some real breathing room in the seventh when Kyle Smith (Catawba) delivered an RBI single and Clark Brinkman (Creighton) belted a two-run homer to extend the lead to 7-1. It was Brinkman's third homer of the season.
The Mustangs tried to make a game out of it when Ryan Shinn hit a two-run homer off Kendrick, but relievers Fox and Smith came on to shut things down over the final 2 2/3 innings.
Asheboro finished with 10 hits, two each by Smith, Friscia and Webster.
The Copperheads will be back on the road Friday night at Finch Field in Thomasville to take on the Hi-Toms. The two teams will play four times over the next five days - at Asheboro on Saturday and Monday and at Thomasville again on Tuesday night.
The Coastal Plain League is the nation's premier summer collegiate baseball league. Celebrating its 22nd season in 2018, the CPL features 16 teams playing in Georgia, North Carolina, South Carolina and Virginia. The CPL has had over 1,450 alumni drafted and 109 of those – including 2011 AL MVP and Cy Young winner Justin Verlander – make their Major League debut; while another notable alum – Russell Wilson – won Super Bowl XLVIII. For more information on the Coastal Plain League, please visit the league website at www.coastalplain.com and follow us via Facebook, Twitter, Instagram and Snapchat @CPLBaseball..
Contact:
David Camp
Phone:
(336) 460-7018