Updated June 22 2016
ASHEBORO, N.C.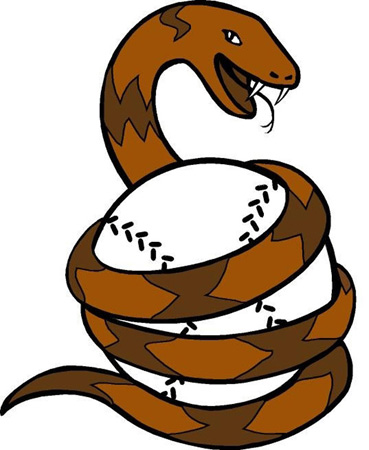 After pounding out a season-high 14 hits on Monday night, the Asheboro Copperheads easily surpassed that hit total two nights later as they cruised past the Wilmington Sharks 11-3 to bring a happy end to a five-game road stretch.
The Copperheads roughed up Sharks' pitching for 18 hits, 15 coming from the first five players in the order and five of them off the bat of center fielder and cleanup man T.J. Nichting, who completed the scoring and capped off his memorable evening with a two-run homer in the top of the ninth.
Right fielder Deivy Palmeiro also had a big game, banging out a double and two singles and scoring five times. Left fielder Kyle Smith, the hero Monday night with a ninth-inning, game-winning homer in Edenton, had another big night with three hits and three RBIs. Leadoff hitter and DH Derek Perry also had three hits and scored twice.
While the offense was putting up big numbers, starting pitcher Devin Sweet racked up his fourth win of the season without a loss and his second this week as he went seven innings, giving up just a single run, five hits, striking out eight and walking two. Sweet pitched an inning in relief and got the win at Edenton Monday. Jack Gomersall pitched the eighth and Connor Buenger finished it off by working the ninth.
After an off-day on Tuesday, the Copperheads came out swinging again and jumped on the Sharks for three runs in the first and added another in the second. Wilmington drew to within 4-1 with a single tally in the second, but the Snakes added two more in the fifth, another in the sixth and two more in the seventh to turn its into a one-sided affair. Nichting's fifth hit and two-run blast in the ninth simply added insult to injury.
The win improved the Copperheads to 12-5 on the season and gave them a 3-2 record on the five-game road stretch. They'll return home to McCrary Park for the first time in a week Thursday night to facc the Lexington County Blowfish at 7:05. After traveling to Forest City on Friday night, the Copperheads will play their next five games at McCrary Park, where they are 7-1 this season.
The Coastal Plain League is the nation's premier summer collegiate baseball league. Celebrating its 22nd season in 2018, the CPL features 16 teams playing in Georgia, North Carolina, South Carolina and Virginia. The CPL has had over 1,450 alumni drafted and 109 of those – including 2011 AL MVP and Cy Young winner Justin Verlander – make their Major League debut; while another notable alum – Russell Wilson – won Super Bowl XLVIII. For more information on the Coastal Plain League, please visit the league website at www.coastalplain.com and follow us via Facebook, Twitter, Instagram and Snapchat @CPLBaseball..
Contact:
Phone: