Updated June 24 2016
FOREST CITY, N.C.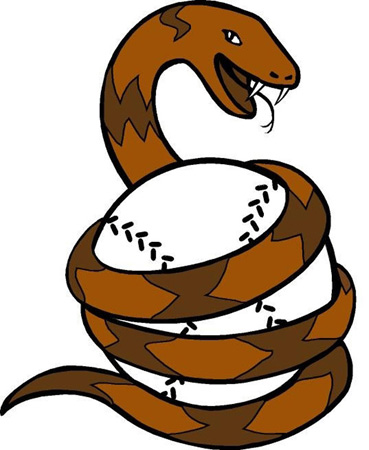 What a crazy offensive week it has been for the Asheboro Copperheads.
After combining for 20 runs and 32 hits in road wins Monday and Wednesday, the Copperheads could only manage a pair of hits and runs in a home loss Thursday night. But back on the road Friday, the Snakes exploded on offense again to the tune of a 15-2 victory over the Forest City Owls at McNair Field. That means in three road games this week the "road warrior" Copperheads scored 35 runs and hammered out 47 hits.
Vito Friscia, Deivy Palmeiro and Jordan Winawer led the way against the Owls, but got plenty of support from the rest of the lineup as the Copperheads improved their record to 13-6 and kept the heat on the High Point-Thomasville in hotly-contested CPL West Division first half race. The Hi-Toms won their seventh straight Friday night, but still only lead the Copperheads by a half-game.
The Copperheads fell behind early when the Owls scored a pair of unearned runs in the second, but then took off with five runs in the third, five more in the fourth and three more in the fifth for a 13-2 lead.
They scored their final two in the top of the ninth.
While the offense was outstanding, the pitching was pretty solid as well. Righty Patrick Morton went six innings to record his first win of the summer. Jack Gomersall worked one inning and then head coach Keith Ritsche used position players T.J. Nichting and Nic Perkins on the hill in the eighth and the ninth and both pitched shutout innings. Morton allowed five hits, struck out five and walked three.
Palmeiro had three hits, drove in four runs and scored twice. Friscia had a pair of doubles and four RBIs, while Winawer had three hits, scored three times and drove in a pair. Nichting, Ryan Colombo, Colby Barnette and Derek Perry also had two hits apiece.
The Copperheads will return to McCrary Park Saturday night to face Edenton in the first of five straight home games. They'll host Forest City on Sunday night, Martinsville in a doubleheader on Monday night, and then take Tuesday off before welcoming Forest City again on Wednesday night.
The Coastal Plain League is the nation's premier summer collegiate baseball league. Celebrating its 22nd season in 2018, the CPL features 16 teams playing in Georgia, North Carolina, South Carolina and Virginia. The CPL has had over 1,450 alumni drafted and 109 of those – including 2011 AL MVP and Cy Young winner Justin Verlander – make their Major League debut; while another notable alum – Russell Wilson – won Super Bowl XLVIII. For more information on the Coastal Plain League, please visit the league website at www.coastalplain.com and follow us via Facebook, Twitter, Instagram and Snapchat @CPLBaseball..
Contact:
David Camp
Phone:
(336) 460-7018