Updated August 25 2016
HOLLY SPRINGS, N.C.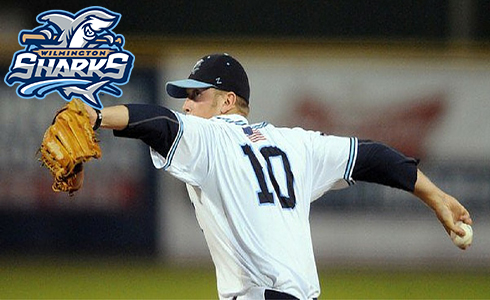 The Coastal Plain League announced today that Connor Riley (picture courtesy Marie Kirschner) of the Wilmington Sharks has been named the 2016 CPL Pitcher of the Year. This was Riley's first season with the Sharks and in the CPL.
Riley, a 5-11, 190-pound junior from USC-Aiken flirted with the all-time CPL record of 110 strikeouts in a single season, finishing second all-time with 100 despite having to leave early for school in late July. Even more impressive was he notched all of these strikeouts in only 66 2/3 innings pitched to finish with a 13.5 strikeouts per nine innings rate, good for fifth all-time. If that was not enough to earn the distinction of the league's best pitcher, Riley only walked 19 batters all season for a 5.26 strikeout-to-walk ratio and 0.88 WHIP.
Overall, Riley finished with the league's second best ERA at 2.03 and second best opposing batting average at .174 to go along with a 6-3 record across nine starts and 12 total appearances. His final start of the year came on July 27, needing 11 strikeouts to hit the triple-digit mark, Riley tossed a complete-game allowing only one run and five total hits while striking out 11 before being mobbed by his teammates on the mound.
Of his regular season statistics, Riley finished Top Five in the league of six different categories: Strikeouts (1st), earned run average (2nd) opposing batting average (2nd), innings pitched (2nd), wins (2nd) and runs allowed (2nd).
His strong play was recognized throughout the season by a Pitcher of the Week award in week seven, after arguably his most impressive start of the season on July 15 versus the Wilson Tobs when he managed to strikeout a mind-boggling 16 batters across seven innings while allowing only four hits and no runs to notch the win. The right-hander was also honored with a spot on the East Division CPL All-Star Game where he went on to earn the win striking out two and allowing no hits or runs during his allotted one inning of work.
Riley helped the Sharks secure the number East Division's two seed in the Petitt Cup Playoffs before having to leave. The Sharks would eventually fall in the first round to the three seeded Wilson Tobs.
The Coastal Plain League is the nation's premier summer collegiate baseball league. Celebrating its 20th season in 2016, the CPL features 16 teams playing in Georgia, North Carolina, South Carolina and Virginia. The CPL has had nearly 1,300 alumni drafted and 90 of those – including 2011 AL MVP and Cy Young winner Justin Verlander – make their Major League debut; while another notable alum – Russell Wilson – won Super Bowl XLVIII. For more information on the Coastal Plain League, please visit the league website at www.coastalplain.com, like us on Facebook at Coastal Plain Leagye and follow us via Twitter and Instagram @CPLBaseball.
Contact:
Shelby Hilliard
Phone:
919-852-1960