Updated May 17 2017
WILSON, N.C.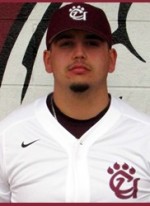 Jordan Clark has signed to play for the Wilson Tobs in 2017, coming from Concord University, a Division II program in Athens, West Virginia. Clark (So./OF) is coming off an excellent 2017 season in which his Mountain Lions finished with a 26-25 record.
Clark started 46 games in the outfield, where he threw out 14 runners via outfield assist and finished the season with a .938 fielding percentage.
While playing solid defense, Clark made a name for himself as a hitter. He finished the season with 13 home runs and 63 RBI, both of which led the team, and a .354 batting average, good for third on the team. He slugged a mighty .652 and collected 116 total bases. He also drew 18 walks over the 2017 season, which helped aid his .416 on base percantage. His stellar hitting throughout the season impressed coach Aaron Lynch, who had this to say about the newest Tob outfielder:
"He can flat out swing the bat. He can hit for both contact and power on a regular basis, and he's a tough out at any time. He should be just fine swinging wood bats this summer."
The Wilson Tobs home opener for the 2017 season is Sunday, May 28th. Season tickets and ticket packages are on sale now and can be purchased by calling (252) 291-8627, or by visiting www.wilsontobs.com/tickets.
The Wilson Tobs enter their 21st season as an original member within the Coastal Plain League for the 2017 Summer. The upcoming season for the Tobs will see an expanded community outreach effort, increased participation in helping the less fortunate, and more exciting entertainment for the Wilson Community. We would like to dedicate each successful season to the Wilson Community, Coastal Plain League Organization, Host Families, Sponsors Partners, and the Dedicated Fans throughout the city of Wilson. The Wilson Tobs have played host to over 100 alumni taken in the draft and have produced a dozen players who have gone on to play in the MLB, including Cy Young & MVP winner Justin Verlander. For more information on the Wilson Tobs, visit our website www.wilsontobs.com.
The Coastal Plain League is the nation's premier summer collegiate baseball league. Celebrating its 22nd season in 2018, the CPL features 16 teams playing in Georgia, North Carolina, South Carolina and Virginia. The CPL has had over 1,450 alumni drafted and 109 of those – including 2011 AL MVP and Cy Young winner Justin Verlander – make their Major League debut; while another notable alum – Russell Wilson – won Super Bowl XLVIII. For more information on the Coastal Plain League, please visit the league website at www.coastalplain.com and follow us via Facebook, Twitter, Instagram and Snapchat @CPLBaseball..
Contact:
- Will Hibbard
Phone: