Updated March 06 2014
HOLLY SPRINGS, N.C.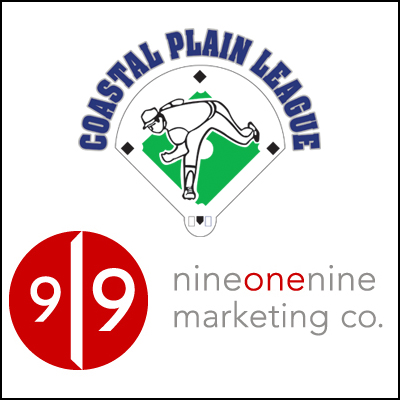 League expansion complete with a state-of-the-art ballpark agreement had the baseball world buzzing about the Coastal Plain League in 2013. Now the league is taking proactive steps to raise its national profile with today's announcement of a two-year partnership agreement with communications firm, 919 Marketing, a national firm with deep roots in professional and amateur sports marketing..
The deal is the first of its kind for the Coastal Plain League as it aims to raise awareness among coaches and players across the nation searching for competitive summer leagues to develop their baseball skills.
919 Marketing and the Coastal Plain League partnered on a league expansion and stadium project in 2013, as city officials from Holly Springs, NC approved stadium funding and a lease agreement to bring a CPL team to the new North Main Athletic Complex, set to be ready for Opening Day, 2015.
"As we prepare to begin our 18th season of Coastal Plain League Baseball, we are thrilled to begin what we believe will be a long and productive partnership with 919 Marketing," Coastal Plain League Commissioner Justin Sellers said, "We believe our league is one of the finest available to college athletes in the United States. Now we've strengthened our ability to spread the word."
Spearheading the new agreement from 919 Marketing's offices will be former professional baseball executive Matt DeMargel, who spent 14 years in baseball public relations and event management, the last 11 with the world famous Durham Bulls.
"We really enjoyed working with the Coastal Plain League last year and are excited to do so again in 2014," DeMargel said, "Our two organizations have decades of baseball and public relations experience that we'll use to grow the Coastal Plain League brand."
919 Marketing will assist the league in several vital areas, including national PR campaigns, social media programs, media training for players and coaches, and publicity monetization. The firm will also make its specialists available for consultation to the league and its teams.
The Coastal Plain League will open its 18th season on May 27, 2014. For more information, visit www.coastalplain.com.
About the Coastal Plain League
The Coastal Plain League is the nation's hottest summer collegiate baseball league. Celebrating its 18th season in 2014, the CPL features 14 teams playing in North Carolina, South Carolina and Virginia. The CPL gives college players the chance to refine their skills with the use of wooden bats. Players are housed with local host families for the summer and past experiences have been very positive for both players and hosts. Further more, the CPL has had over 1,100 alumni drafted and 65 alums – including 2011 AL MVP and Cy Young winner Justin Verlander – make their Major League debut thus far. For more information on the Coastal Plain League, please visit the league website at CoastalPlain.com, and be sure to friend us on Facebook (at www.facebook.com/coastalplainleague) and follow us via Twitter (as CPLBaseball).
About 919 Marketing
Formed in 1996 and headquartered just outside of North Carolina's Research Triangle Park and the capital city of Raleigh, 919 Marketing is a national communications firm with a proven track record of helping underdog companies of all sizes drive top line revenue, create a competitive advantage and build brand equity. 919 Marketing provides high-powered strategic planning, public relations, social media management, digital marketing and development, brand development and full-creative capabilities — each utilizing proven processes refined and validated over hundreds of client engagements. They've twice been named by INC magazine as one of the top 200 fastest growing private marketing firms in the US.
Contact:
Justin Sellers
Phone:
(919) 852-1960