Updated June 29 2017
HOLLY SPRINGS, N.C.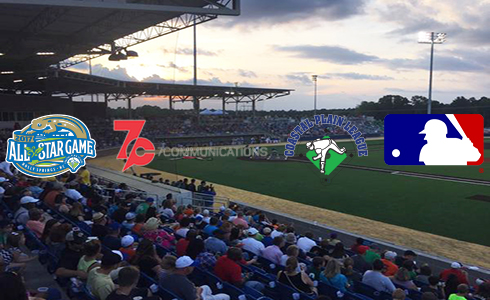 The Coastal Plain League is excited to announce a partnership with 7 Communications that will broadcast the CPL All-Star Game into over 25 million homes. The game will also be live-streamed on MLB.com, the official website of Major League Baseball.
"We are ecstatic to partner with 7 Communications to offer our fans across the country not only our All-Star Game, but also our All-Star Home Run Derby, live from Holly Springs, N.C.," said CPL COO/Commissioner Justin Sellers. "To air our All-Star Game in over 25 million households; not only in our region but in large markets elsewhere is a huge benefit to our players, coaches, umpires and brand as a whole."
This new partnership will allow fans all over the country the opportunity to view the game on live TV through a growing number of markets and channels. Currently this list includes:
MASN (Mid-Atlantic Sports Network)
NESN (New England Sports Network)
TUFF TV Network (Charlotte, NC / Atlanta, GA)
WILM (Wilmington, NC)
WITN (Greenville, NC)
Cox Sports Network (Norfolk, VA / Roanoke, VA / Fairfax, VA)
WSAV (Savannah, GA)
WKTC (Columbia, SC)
FOTV (Los Angeles, CA / Las Vegas, NV)
DISH Network (markets such as Miami, FL)
WBNA (Louisville, KY)
"We are thrilled to be partnered with the Coastal Plain League and our distribution partners, notably Chip Harwood at Princeton Media Group," said Mark Owens of 7 Communications. "We believe that we're on the verge of helping the CPL become a household name in the world of developmental baseball, and with the addition of our friends at Major League Baseball Advanced Media, we feel we off to a great start. We can't wait to be the official broadcast producer for both the CPL Home Run Derby and All Star Game, as well as a planned game of the week next season!"
Additionally, the All-Star Game will be streamed live on MLB.com through an agreement with Major League Baseball and MLBAM.
"Being able to have our All-Star Game streamed on MLB.com is fantastic," said Sellers. "Having this ability allows us to further expose our players to professional baseball, which hopefully aids their dreams into becoming reality."
The CPL Home Run Derby the night before will also be filmed and streamed on our website, www.coastalplain.com, for fans who are unable to attend.
East and West Division CPL All-Stars will be announced tomorrow, Friday June 30 with Home Run Derby participants being selected next week.
The All-Star Event covers July 9-10 at the North Main Athletic Complex in Holly Springs, N.C. An All-Star Fan Fest with games, vendors, player autographs and more will be available to fans prior to the Home Run Derby on July 9. The CPL All-Star Game will take place on Monday, July 10 starting at 7 p.m.
All-Star Itinerary:
Sunday, July 9
3:30 p.m. – 5:30 p.m. – All-Star FanFest
5:45 p.m. – 6:45 p.m. – Mascot Kickball Game
7:00 p.m. – All-Star Home Run Derby
Monday, July 10
7:00 p.m. – CPL All-Star Game
For information on tickets please visit www.salamandersbaseball.com or call them at 919-249-7322 today while tickets last.
About the CPL:
The Coastal Plain League is the nation's premier summer collegiate baseball league. Celebrating its 21st season in 2017, the CPL features 15 teams playing in Georgia, North Carolina, South Carolina and Virginia. The CPL has had over 1,400 alumni drafted and 102 of those – including 2011 AL MVP and Cy Young winner Justin Verlander – make their Major League debut; while another notable alum – Russell Wilson – won Super Bowl XLVIII. For more information on the Coastal Plain League, please visit the league website at www.coastalplain.com and follow us via Twitter @CPLBaseball.
Contact:
Shelby Hilliard
Phone:
919-852-1960