Updated July 31 2016
WILSON, NC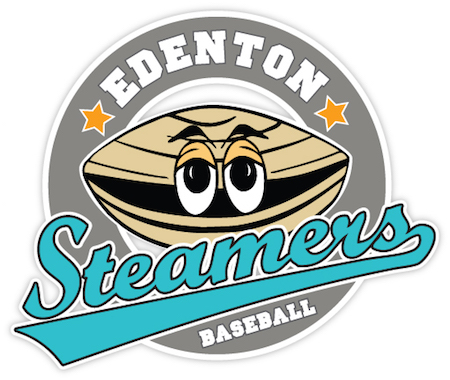 The Edenton Steamers dropped their fifth straight game as the Wilson Tobs took a 3-0 decision on Saturday night. Edenton (12-8, 24-24) has been held scoreless for the past 19 innings, while Wilson (12-10, 27-22) picked up their fifth win in a row.
Eric Scheuermann shouldered the loss despite a quality start for the Teal and Black. Scheuermann (2-2) allowed two earned runs on five hits while walking one and fanning four in six innings of work.
Zack Mazingo grabbed the win for the Tobs. Mazingo (2-1) shut out the Clams for eight innings, allowing seven hits while collecting four strikeouts.
Both starters shut down opposing hitters for the first five innings, but Wilson broke up the scoreless in game in the bottom of the sixth. With two outs and a runner on second, Logan Baldwin, Jimmy Latona and Cameron Balego connected for three consecutive singles to give the Tobs a 2-0 advantage.
In the following inning, Andrew Webster led off with a solo shot to left-center to extend the Wilson lead to 3-0.
The Clams gave themselves a chance in the ninth. Tony Rosselli and Thatcher Coleman knocked consecutive singles to bring the tying run to the plate with two outs, but Shamoy Christopher failed to extend the game, striking out on six pitches.
The Edenton Steamers return to Historic Hicks Field to host the Morehead City Marlins on Monday night,¬ before the Savannah Bananas come to Edenton on Tuesday. Both games are set to start at 7 p.m. For more information, fans can call (252) 482-4080 or visit edentonsteamers.com.
The Coastal Plain League is the nation's premier summer collegiate baseball league. Celebrating its 22nd season in 2018, the CPL features 16 teams playing in Georgia, North Carolina, South Carolina and Virginia. The CPL has had over 1,450 alumni drafted and 109 of those – including 2011 AL MVP and Cy Young winner Justin Verlander – make their Major League debut; while another notable alum – Russell Wilson – won Super Bowl XLVIII. For more information on the Coastal Plain League, please visit the league website at www.coastalplain.com and follow us via Facebook, Twitter, Instagram and Snapchat @CPLBaseball..
Contact:
Chris Lehman
Phone:
(919) 559-6863