Updated August 22 2016
HOLLY SPRINGS, N.C.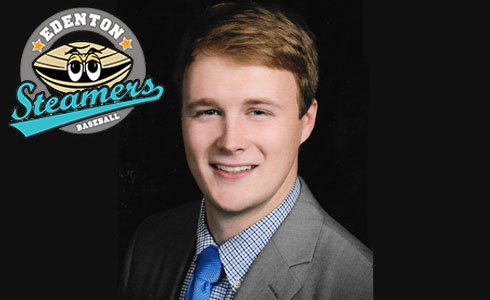 The Coastal Plain League announced today, August 22, that Chris Lehman of the Edenton Steamers has been named the 2016 Coastal Plain League Broadcaster of the Year. This was Lehman's second season with the Steamers and the CPL.
"It is an incredible honor to be selected as the 2016 CPL Broadcaster of the Year, considering the skill of this year's group of broadcasters and the broadcasters to win the award before me," said Lehman. "First of all, I must thank Tyler Russell and Frank Burke for allowing me the opportunity to call another summer of baseball in Edenton, one of the most unique and fun places to watch baseball at any level. I also want to thank the town of Edenton and the Steamers' fans who made my last two summers incredible, as well as the Coastal Plain League itself. There aren't many places that you can go and find the same level of genuine passion and love for the game of baseball."
Lehman handled all phases of the job with professionalism, conducting pre and post game shows with players, coaches, or front office staff interviews each game, to go along with writing nightly game recaps to help keep fans engaged who were unable to attend or listen to the games. His work ethic and charisma on air drew the praise of fans during the end-of-year voting process, a sentiment the CPL's Director of Broadcaster Chris Edwards echoed.
"Chris has shown his passion and knowledge of the game over the past two seasons in the league," noted Edwards. "He continues to grow as a broadcaster and did a great job this season of painting a picture of what was happening on the field for those listening at home."
The 2016 NC State graduated is no stranger to the pressbox having worked as a play-by-play voice and color commentator for GoPack.com and NC State's campus cable sports channel, Wolfpack Sports Television. Through this, he had the opportunity to call games for Division I men's and women's soccer, softball and baseball, and was the voice of NC States club hockey team.
He is currently working as the voice of the Trojan Sports Network, providing play-by-play for Garner High School's football and basketball teams.
The Coastal Plain League is the nation's premier summer collegiate baseball league. Celebrating its 20th season in 2016, the CPL features 16 teams playing in Georgia, North Carolina, South Carolina and Virginia. The CPL has had nearly 1,300 alumni drafted and 90 of those – including 2011 AL MVP and Cy Young winner Justin Verlander – make their Major League debut; while another notable alum – Russell Wilson – won Super Bowl XLVIII. For more information on the Coastal Plain League, please visit the league website at www.coastalplain.com, like us on Facebook at Coastal Plain Leagye and follow us via Twitter and Instagram @CPLBaseball.
Contact:
Shelby Hilliard
Phone:
919-852-1960