Updated August 22 2016
HOLLY SPRINGS, N.C.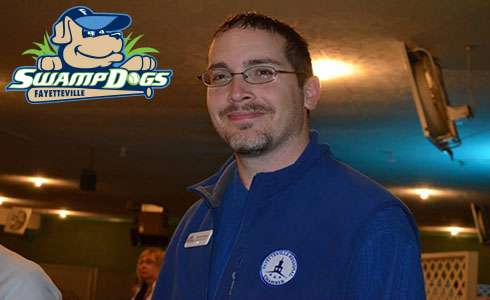 The Coastal Plain League announced August 22 that Brandon Plotnick of the Fayetteville SwampDogs was named the 2016 CPL Scorekeeper of the Year. This was Plotnick's fourth season with the SwampDogs and the third year the CPL has named a Scorekeeper of the Year.
"I am incredibly honored to win this award," said Plotnick. "I take a lot of pride in trying to make sure I am doing the best job that I can. To the fans and others this may be just a game, but I take it seriously that every decision I make up there matters to these players trying to develop careers in the game of baseball. It's an honor to know I have gained enough respect to be able to win something like this, it means a lot."
A CPL scorekeeper holds duties such as scoring each game both in hard copy form, as well as updating the live stats in real time for fans following along at home. Each night they also must send in the stat file and nightly game report to the league office to be published online. Plotnick was selected based on his ability to complete both of these tasks promptly and accurately, showing a great aptitude for the stats program and scoring a game overall.
Plotnick first started out in sports as a journalist before moving to Fayetteville and changing career paths. None the less he knew sports was something he always wanted to be a part of and first started out his relationship with the SwampDogs nine years ago as a host family. It soon became apparent to the team that Plotnick held a great knowledge for the game of baseball and when they were in need of an official scorekeeper, Plotnick was eager to step in.
"I'm sure a lot of people in the league feel this way, but I love the atmosphere at this ballpark every night," Plotnick went on. "It's such a family atmosphere. Every year I look forward to the season, knowing that the crew in the press box is like a second family to me."
The Coastal Plain League is the nation's premier summer collegiate baseball league. Celebrating its 20th season in 2016, the CPL features 16 teams playing in Georgia, North Carolina, South Carolina and Virginia. The CPL has had nearly 1,300 alumni drafted and 90 of those – including 2011 AL MVP and Cy Young winner Justin Verlander – make their Major League debut; while another notable alum – Russell Wilson – won Super Bowl XLVIII. For more information on the Coastal Plain League, please visit the league website at www.coastalplain.com, like us on Facebook at Coastal Plain Leagye and follow us via Twitter and Instagram @CPLBaseball.
Contact:
Shelby Hilliard
Phone:
919-852-1960