Updated January 02 2013
GASTONIA, N.C.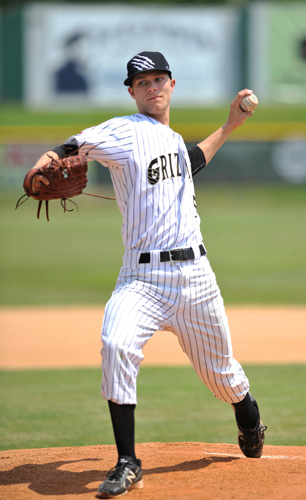 The Gastonia Grizzlies Baseball Club announced today the signing of Bryce Beeler from University of Memphis and Cody Stull (pictured) from Belmont Abbey.
As a freshman in 2012 at Memphis, Beeler played in 28 games. He played 2nd base in 11 of the 12 games that he started and hit .271 with 9 RBI and 13 runs scored.
Beeler, a 6-3, 175 pound sophomore, started in 45 games for the Grizzlies in 2012 and finished the season with a .280 batting average. He recorded 46 hits and 12 RBIs for the season with a .411 on base percentage. Beeler was also second on the team with 6 steals and third on the team with 29 runs.
Stull, a 6-0, 160 pound junior, started 8 games on the mound for the Grizzlies in 2012 and was second on the team in strikeouts with 34 and third on the team in innings pitched with 43.2. Cody said this about the 2013 season, "I'm excited to play for Coach Wood and have some of the same guys returning to help bring the CPL Championship back to Gastonia… and trust me, I've been working on my dance moves!"
"Bryce is a tremendous athlete that will spend time in as many as five positions for us this summer," said Head Coach Jason Wood. "Bryce hit at the top of the lineup for much of last year and we're excited about expanding his role for the Grizzlies this summer."

"Aside from being a fan favorite, Cody was outstanding as a starting pitcher last summer for the Grizzlies. Cody has tremendous character and is the kind of person you always want in your club."
These two athletes plus many more talented baseball players will call Gastonia home in 2013. Box seat season tickets are sold out for 2013 season. However, a limited number of General Admission Season tickets and "Fireworks Packages" are available. Fireworks Packages include all three fireworks shows and two additional sell out games! For more information you can reach the Grizzlies front office at 704-866-8622 or visit www.gastoniagrizzlies.com.
The Grizzlies are a proud member of the Coastal Plain League, the nation's hottest summer collegiate baseball league. Celebrating its 17th season in 2013, the CPL features 14 teams playing in North Carolina, South Carolina and Virginia. The CPL gives college players the chance to refine their skills with the use of wooden bats. Players are housed with local host families for the summer and past experiences have been very positive for both players and hosts. The CPL has had over 1,000 alumni drafted and 57 alums – including 2011 AL MVP and Cy Young winner Justin Verlander – make their Major League debut thus far. For more information on the Coastal Plain League, please visit the league website at www.coastalplain.com, and be sure to friend us on Facebook (at www.facebook.com/coastalplainleague) and follow us via Twitter (CPLBaseball).
Contact:
Phone: