Updated June 30 2017
HOLLY SPRINGS, N.C.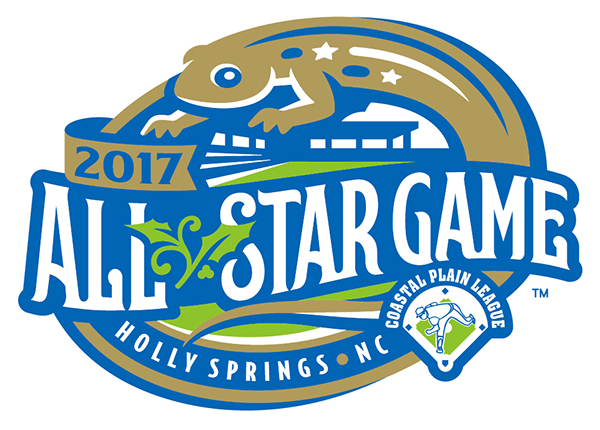 The Coastal Plain League announced today the rosters for the 2017 All-Star Game to be held in Holly Springs, N.C. at the North Main Athletic Complex July 9-10. This marks the 19th year the CPL has played an all-star game, with last year's ending in a 4-3 win by the East All-Stars.
Players are separated by division and will be competing in front of a large contingency of scouts as well as fans. Since the game is being played in the Holly Springs Salamanders home ballpark, the East All-Stars will be the home team while the West All-Stars will serve as the visitors.
For the fourth straight year, the CPL will turn to its fans to select their favorite of five candidates for the East and West All-Star teams respectively. In the East, Anthony Maselli (Edenton / Boston College), Jayson Newman (Fayetteville / Cal State Northridge), Sam Griggs (Peninsula / Southern Indiana), Justin Dean (Wilmington / Lenoir-Rhyne) and Josh Ladowski (Wilson / North Carolina) earned a spot on the final vote ballot. In the West, Clark Brinkman (Asheboro / Creighton), Jackson Mims (Gastonia and Charlotte), Ike Freeman (HP-Thomasville / North Carolina), Zachary Spivey (Lexington County / Bethune-Cookman) and Zach Michalski (Martinsville / NC Central) were named finalists.
The vote will take place starting Monday, July 3 at 12 p.m. (noon) and run through Tuesday, July 4 at 12 p.m. (noon), with an announcement coming later that day.
On the mound to start for the East will be Will Hartsell of Morehead City who was also the starter for the CPL Select Team that beat the USA Collegiate National Team 10-0 earlier this month. The right-hander out of Charleston Southern holds a perfect 0.00 over 20 innings pitched to go along with 28 strikeouts and only three walks for a .186 batting average against.
For the West the starter will be Alec Bivins of Forest City and Mars Hill who holds a 2.42 ERA across three starts for a 3-0 record. The right-hander has struck out 23 while walking only three across 26 innings pitched to help the Owls to the First Half Championship.
The All-Star Event covers July 9-10 at the North Main Athletic Complex in Holly Springs, N.C. An All-Star Fan Fest with games, vendors, player autographs and more will be available to fans prior to the Home Run Derby on July 9. The CPL All-Star Game will take place on Monday, July 10 starting at 7 p.m.
All-Star Itinerary:
Sunday, July 9
3:30 p.m. – 5:30 p.m. – All-Star FanFest
5:45 p.m. – 6:45 p.m. – Mascot Kickball Game
7:00 p.m. – All-Star Home Run Derby
Monday, July 10
7:00 p.m. – CPL All-Star Game
For information on tickets please visit www.salamandersbaseball.com or call them at 919-249-7322 today while tickets last.
The game will be broadcast live in over 25 million homes as well as be streamed on MLB.com via the CPL's partnership with 7 Communications.
The East versus West All-Star Game will take place the following night, Monday July 10, the full rosters can be found below. Starters are noted by asterisks (*) and players that were named all-stars but are unable to attend are marked with a pound sign (#).
Coastal Plain League 2017 East All-Star Roster

| | | | | | | |
| --- | --- | --- | --- | --- | --- | --- |
| C | *Jason Agresti | Edenton | 6-2 | 215 | Binghamton | Jr. |
| C | Drew Delsignore | Peninsula | 5-10 | 210 | Mercyhurst | Jr. |
| 1B | *Riley Knudsen | Wilmington | 6-3 | 200 | College of Charleston | Jr. |
| 1B | Shane Shepard | Wilson | 6-3 | 220 | NC State | Jr. |
| 2B | *Nick Podkul | Morehead City | 6'2 | 195 | Notre Dame | So. |
| 2B | Connor Kopach | Edenton | 6-0 | 1870 | Southern Illinois | RS-Jr. |
| SS | *Austin LaFollette | Holly Springs | 6-0 | 170 | UNC Wilmington | RS-Fr. |
| SS | Chandler Corley | Morehead City | 5'11 | 180 | Armstrong State | Jr. |
| 3B | *Jonathan Embry | Peninsula | 5-11 | 185 | Liberty | RS-Fr. |
| 3B | Zach Piazza | Holly Springs | 6-1 | 205 | Limestone | So. |
| DH/UTL | *Matthew Schneider | Peninsula | 6-0 | 195 | Mercyhurst | So. |
| DH/UTL | Drake McNamara | Peninsula | 6-2 | 210 | Southern Indiana | Jr. |
| OF | *Jamie Battley | Edenton | 6-0 | 195 | Illinois-Springfield | RS-Jr. |
| OF | *Billy Wilson | Edenton | 6-0 | 200 | Loyola Marymount | Jr. |
| OF | *Austin Edgette | Fayetteville | 6'2 | 180 | Bloomsburg | Jr. |
| OF | James Galazin | Edenton | 6-4 | 195 | St. Johns | Jr. |
| OF | Jay Robinson | Fayetteville | 5-11 | 195 | New Orleans | Jr. |
| OF | Cory Wood | Holly Springs | 5-9 | 170 | Coastal Carolina | Fr. |
| OF | Luke Morgan | Wilmington | 6-3 | 190 | College of Charleston | Jr. |
| LHP | *Will Hartsell | Morehead City | 5-11 | 185 | Charleston Southern | Jr. |
| LHP | Carmen Giampetruzzi | Edenton | 6-3 | 220 | Boston College | Jr. |
| RHP | Griffin McLarty | Fayetteville | 6-3 | 185 | College of Charleston | Fr. |
| LHP | Zach Neff | Fayetteville | 6-0 | 180 | Austin Peay | Jr. |
| RHP | Ben Gross | Holly Springs | 6-1 | 210 | Princeton | Jr. |
| RHP | Collin Liberatore | Peninsula | 6-4 | 195 | Pittsburgh | RS-So. |
| LHP | Colt Harlow | Peninsula | 5-10 | 170 | James Madison | Jr. |
| LHP | Jonathan Jahn | Wilmington | 6-0 | 195 | South Carolina | Fr. |
Coastal Plain League 2017 West All-Star Roster

| | | | | | | |
| --- | --- | --- | --- | --- | --- | --- |
| C | *Harris Yett | Gastonia | 6-0 | 205 | Charlotte | RS-So. |
| C | Matthew Beaird | Florence | 6-0 | 195 | Coastal Carolina | Jr. |
| 1B | *Zach Jacobs | Florence | 6-4 | 210 | Francis Marion | So. |
| 1B | LJ Talley | Savannah | 6-3 | 210 | Georgia | So. |
| 2B | *Christian Hollie | Savannah | 6-0 | 190 | UT-Arlington | Jr. |
| 2B | Devon Ortiz | Asheboro | 6-0 | 185 | USC Upstate | RS-So. |
| 2B | Derek Perry | Asheboro | 5-8 | 200 | Pfeiffer | Jr. |
| SS | *Masen Hibbeler | Florence | 6-0 | 185 | Texas | So. |
| SS | Ryan Cox | Gastonia | 6-1 | 190 | Kutztown | Jr. |
| 3B | *Carson Jones | Forest City | 5-11 | 195 | Lander | So. |
| 3B | Davis Sims | Martinsville | 6-5 | 220 | Murray State | So. |
| DH/UTL | *Seth Hoagland | Forest City | 6-1 | 205 | Iona | Jr. |
| DH/UTL | John Cassala | Savannah | 5-10 | 185 | Jacksonville | So. |
| OF | *Tyler Webb | Florence | 6-1 | 195 | Memphis | Jr. |
| OF | *Connor Grant | Forest City | 6-3 | 185 | North Greenville | So. |
| OF | *Logan Mattix | Savannah | 6-0 | 185 | Georgia College | Jr. |
| OF | Christopher Chatfield | Forest City | 6-4 | 210 | South Florida | So. |
| OF | Nick Guimbarda | Lexington County | 6-0 | 190 | Presbyterian | So. |
| OF | Lee Sponseller/td> | Martinsville | 5-11 | 185 | Ohio Dominican | RS-Jr. |
| RHP | *Alec Bivins | Forest City | 6-3 | 195 | Mars Hill | Jr. |
| RHP | Devin Sweet | Asheboro | 5-10 | 195 | NC Central | Jr. |
| RHP | Clay Young | HP-Thomasville | 5-11 | 175 | Catawba | Jr. |
| RHP | Elliot Forde | Savannah | 6-1 | 200 | Misericordia | Jr. |
| RHP | Joshua Vincent | Martinsville | 6-3 | 200 | UConn-Avery Point | So. |
| LHP | John Micheal Stephens | Florence | 6-8 | 205 | New Orleans | Jr. |
| LHP | Daniel Wiggins | Gastonia | 6-2 | 190 | USC-Aiken | Fr. |
| RHP | Jason Goe | HP-Thomasville | 6-5 | 230 | Morehead State | So. |
Contact:
Shelby Hilliard
Phone:
919-852-1960