Updated March 04 2013
Steamers Double Dip on Slick-Fielding Shortstops
EDENTON, N.C.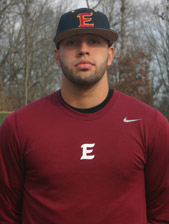 The Edenton Steamers of the Coastal Plain League announce today the addition of shortstops Alex Delgado (picture courtesy of Emmanuel College Sports Information) and Clint Harwick to the 2013 fold.
Hailing from Caracas, Venezuela, Delgado is a junior shortstop at Emmanuel College (GA) in the NAIA Southern States Athletic Conference. The 6-3, 200-pound righty is the starting shortstop and number-three hitter for the Lions this spring. After being named the SSAC second-team shortstop last spring, Delgado, through 17 games in 2013, has a video game type slash line. In 73 at-bats he is hitting .493 with an on-base percentage of .519, a slugging percentage of .671 and a ridiculous OPS of 1.190. He has added five doubles, two home runs, one triple and has only fallen victim to the strikeout once thus far. A former transfer from Saint Thomas University in Miami, Delgado has also shown his offensive diversity by laying down four sacrifice bunts. Having logged every inning at shortstop this year, he has a 4.76 range factor to go along with a stellar .975 fielding average. Delgado can really play the shortstop position and is coming into his own at the plate this spring. He looks the part and projects as an integral component of the Steamers middle infield this summer.
Harwick joins Edenton as a right-handed junior shortstop from Point Loma Nazarene University (CA) in the NCAA Division II Pacific West Conference. The 6-2, 210-pound Glendora, CA., native is the starting shortstop and number two- or three-hitter for the Sea Lions this spring. During his 2011 summer with the North Shore Navigators in the New England Collegiate Baseball League, Harwick batted .333, had an on-base percentage of .377, slugged .442 and recorded an OPS of .819. He took 11 walks to only 14 strikeouts and swiped nine bags. This spring has seen Harwick off to a slow start at the plate. Through 13 games he is batting just .174, having hit all singles, but bright spots have shone through. He has taken seven walks to only five strikeouts, is six-for-six in stolen bases, driven in seven runs and none of his offensive struggles have impacted his defense. He has played every inning at shortstop and posted a sterling 4.85 range factor and a .968 fielding average. Harwick is a three-year starter at shortstop and the unquestioned leader of the baseball program for Point Loma, who find themselves in their first season in the NCAA Division II ranks this spring after transitioning from the NAIA level. He joins the Steamers as a gifted defensive shortstop. Following an excellent freshman summer in the NECBL, Harwick spent part of last summer on the Cape.
The Steamers could not be more excited about featuring this duo up the middle in 2013. The shortstop position was a huge priority this summer after injuries and the draft last summer combined with D.J Johnson working full-time as a pitcher at school this spring. These two players give the teal and black two very physical, lock-down defenders at shortstop.
The Edenton Steamers are a proud member of the Coastal Plain League, the nation's hottest summer collegiate baseball league. Celebrating its 17th season in 2013, the CPL features 14 teams playing in North Carolina, South Carolina and Virginia. The CPL gives college players the chance to refine their skills with the use of wooden bats. Players are housed with local host families for the summer and past experiences have been very positive for both players and hosts. Furthermore, the CPL has had over 1,000 alumni drafted and 59 alums – including 2011 AL MVP and Cy Young winner Justin Verlander – make their Major League debut thus far. For more information on the Coastal Plain League, please visit the league website at www.coastalplain.com, and be sure to friend us on Facebook (at www.facebook.com/coastalplainleague) and follow us via Twitter (as cplbaseball).
Contact:
Chip Pruden
Phone:
(252) 482-4080