Updated March 05 2013
Owls Add Four From Dayton
FOREST CITY, N.C.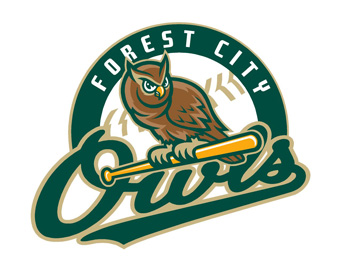 The Forest City Owls are proud to announce the signing of four players from Dayton University. One of the strongest programs in the Atlantic 10 Conference, Dayton finished the 2012 season with a 31-30 record, including a 17-7 mark in conference play. Joining the Owls will be RHP Noah Buettgen, RHP Brock Trimbur, LHP Tommy Konrad and SS Nick Weybright, and they will bring a wealth of experience to Forest City this summer.
Buettgen is a 6-1, 200-pound right-handed pitcher who hails from Liberty Township, Ohio. Just a sophomore, he arrived at Dayton via Lincoln Trail College, and previously played his summer ball for the Cincinnati Steam of the Great Lakes Summer League.
Trimbur is another player who made his way to Dayton via transfer, as he made the move from Sinclair Community College. A 6-4, 200-pound righty, he went 6-0 with a 3.72 ERA for Sinclair as a sophomore. Trimbur also had a very decorated high school career as he earned 1st Team All-State honors and was named The Columbus Dispatch Player of the Year after he went 16-2 with a 0.78 ERA over his final two seasons. He played his summer ball with the Licking County Settlers in 2011, posting a 3-3 record with a 3.57 ERA.
"Noah and Brock look to factor into our rotation and be a big contributors this year," said Owls manager David Tufo. "Both come to us with experience and great pitching mindsets. Both Noah and Brock came to Dayton as transfers and know how to pitch at a high level. I am looking forward to their contributions on the field."
Konrad is a 5-11, 190-pound junior from St. Charles, Illinois. The junior appeared in 14 games out of the bullpen as a true freshman, striking out 11 in 18 innings pitched. As a sophomore last season, he moved into a starting role and went 3-4 with a 6.42 ERA.
"Tommy will give us depth on our pitching staff," said Tufo. "He has the ability to start and also come out of the pen and get outs for us. He is a smart pitcher and we look for him to be a key contributor to our staff."
Weybright is a 6-2, 180-pound freshman from Lawrence North High School in Indianapolis, Indiana, who is known for his renowned defense. He was a two-way player in high school, as he posted an incredible 0.39 ERA and .299 batting average as a senior. Weybright was ranked as the No. 30 prospect in the state of Indiana by PrepBaseballReport.
"Nick will give us depth to an already strong infield group," added Tufo. "He is a confident young defender and we look for him to compete for at-bats all summer. His versatility and sure-handed defense will make him a valuable asset to our team this year."
The Coastal Plain League is the nation's hottest summer collegiate baseball league. Celebrating its 17th season in 2013, the CPL features 14 teams playing in North Carolina, South Carolina and Virginia. The CPL gives college players the chance to refine their skills with the use of wooden bats. Players are housed with local host families for the summer and past experiences have been very positive for both players and hosts. Furthermore, the CPL has had over 1,000 alumni drafted and 59 alums – including 2011 AL MVP and Cy Young winner Justin Verlander – make their Major League debut thus far. For more information on the Coastal Plain League, please visit the league website at www.coastalplain.com, and be sure to friend us on Facebook (at www.facebook.com/coastalplainleague) and follow us via Twitter (as CPLBaseball).
Contact:
Jeremy Boler
Phone:
(828) 245-0000