Updated March 05 2013
Marlins Announce 2013 Baseball Camp Schedule
MOREHEAD CITY, N.C.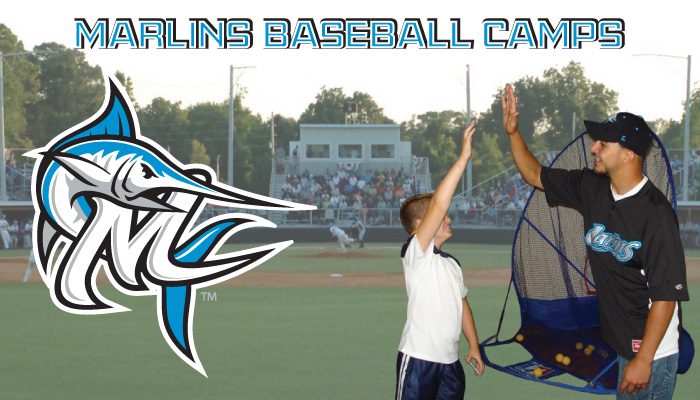 The Morehead City Marlins have announced the release of their 2013 baseball camps. All Marlins camps will be held at Puck O'Neal Field at Big Rock Stadium. Week-long camps will be held from Monday June 17th through Thursday June 20th, as well as Monday July 15th through Thursday July 18th. Week long camps will be focused on all areas of the game, from hitting and pitching, to fielding and base running. Week camps are $125 per person, and include a t-shirt, a Marlins game ticket, instruction, and lunch on Thursday. Instruction will occur from 9 a.m. to Noon each day.
Single day hitting camps will be held on Saturday June 22nd and Saturday July 20th. Single day pitching camps will be held Saturday June 29th and Saturday July 13th. The camps will be designed to work on a players specific position. Single day camps will be from 9 am until Noon. Day camps are $50 per person.
During each three-hour session, campers will receive first-hand instruction from top collegiate baseball players and coaches. Campers will enjoy enhancing their skills, and developing a good sense of teamwork and sportsmanship. Campers are responsible for bringing their own glove, and should wear appropriate baseball attire.
Campers can be registered online at mhcmarlins.com under the groups tab, on the phone at 252-269-9767, or by stopping at the Marlins office located at 508D Evans Street in Morehead City. All parents/guardians must sign liability waivers for child to participate in the camp.
The Marlins have a new office on the Morehead City waterfront. The office is located at 508D Evans Street and offers a full retail store as well as a ticket office. Typical offseason office hours are Monday through Friday, 9 a.m. to 5 p.m.
The Coastal Plain League is the nation's hottest summer collegiate baseball league. Celebrating its 17th season in 2013, the CPL features 14 teams playing North Carolina, South Carolina, and Virginia. The CPL gives college players the chance to refine their skills with the use of wooden bats. Players are housed with local host families for the summer and past experiences have been very positive for both players and hosts. Furthermore, the CPL has had over 1,000 alumni drafted and 59 alums - including 2011 AL MVP and Cy Young winner Justin Verlander - make their Major League debut thus far. For more information on the Coastal Plain League, please visit the league website at www.coastalplain.com, and be sure to friend us on Facebook (at www.facebook.com/coastalplainleague) and follow us via Twitter (as CPLBaseball).
Contact:
Mitch Kluver
Phone:
(252) 269-9767