Updated August 14 2010
Forest City Tops Edenton for Back-to-Back Championship
FOREST CITY, N.C.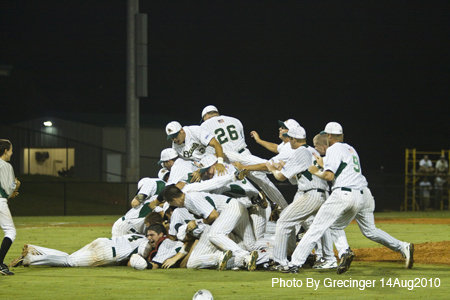 In a solid championship round series, the top-seeded Forest City Owls (photo courtesy of Pat Grecinger) emerged as the 2010 Coastal Plain League Petitt Cup champions after defeating the fifth-seeded Edenton Steamers 5-0 in game three Saturday night.
After the Owls took game one on Thursday in Edenton by the score of 8-0, the Steamers rebounded with a 6-3 victory of their own Friday night at McNair Field. All of which led the two teams to a final showdown with the championship on the line.
With one out in the bottom of the second, Forest City's Andrew Ciencin (N.C. State) singled through the left side, and then was brought home on a two-run home run by Brian Burton (Canisius) to put the Owls up 2-0.
Then in the bottom of the third inning, Tarran Senay (N.C. State) drew a one-out walk and later scored off another two-run homer, this one by Will Skinner (Middle Tennessee State) to make the score 4-0.
The Owls tacked on the final run in the bottom of the eighth. Dusty Quattlebaum (Gardner-Webb) singled to left. Colin Durborow (West Virginia) pinch ran for Quattlebaum. Then Burton reached on a throwing error by shortstop A.J. Rusbarsky (Seton Hall) that allowed him to advance to second and Durborow to move to third. A wild pitch from Coty Saranthus (Delta State) allowed Durborow to cross the plate.
With the win, the Owls became the fifth team in CPL history to win championships in back-to-back years. Furthermore, they are only the second CPL team to host the All-Star Game and win the Petitt Cup crown in the same season. The Wilmington Sharks accomplished the same in 1999.
Edenton ends their strong season with a final record of 37-26. The Owls finished with a record of 43-21; and sport an impressive 94-30 record in the last two years alone.
The Coastal Plain League is the nation's hottest summer collegiate baseball league. Celebrating its 14th season, the Coastal Plain League features 15 teams playing in North Carolina, South Carolina, and Virginia. The CPL gives college players the chance to refine their skills with the use of wooden bats. Players are housed with local host families for the summer and past experiences have been very positive for both players and hosts. Furthermore, the CPL has had over 800 alumni drafted and 37 alums make their Major League debut thus far. For more information on the Coastal Plain League, please visit the league Web site at http://www.coastalplain.com.
Contact:
Justin Sellers
Phone:
(919) 852-1960